phile under: landmark
"Hung Far Low" Sign Returns!
Classic Chinese gaff is back.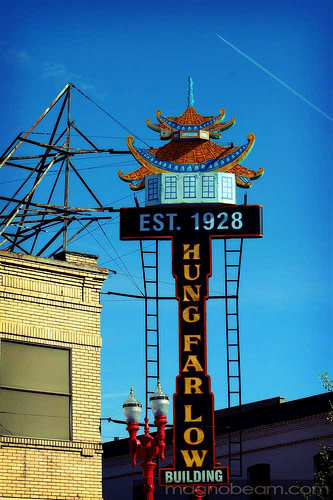 The iconic, unforgettable placard reading, "Hung Far Low," is scheduled to be re-hung in Chinatown today! If you're not already elbowing your way around Tom McCall Waterfront Park for a better view of the Symphony, you might swing by NW 4th Avenue and NW Couch Street for the sign's dedication ceremony. The 200-lb sign, which lorded over its neighborhood location from 1928 to 2005, serving as a conversation piece, a landmark, and a testament to Chinese-American history, was eventually removed for safety reasons—but area tenants lobbied hard for its return.
By the way, "Hung Far Low," in Taisan dialect, means "Almond Blossom Fragrance." So stop snickering.

Culturephile can only feature a few First Thursday picks, but for a more comprehensive list of upcoming events, visit the Arts & Entertainment Calendar!