phile under: theater
Puppet Slam + Double Theater Feature
Two wildly entertaining nights at Someday Lounge.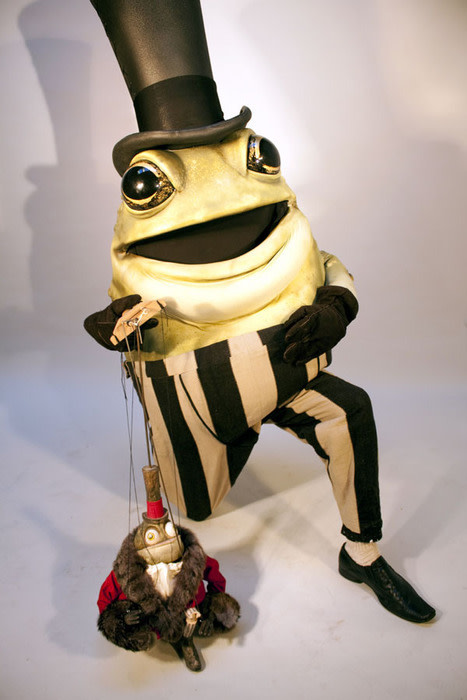 Come, now, what masques, what dance shall we have, to wear away this long age of three hours between our after-supper and bed-time? What revels are in hand? What music? How shall we beguile the lazy time, if not with some delight?
–The Duke, A Midsummer Night's Dream
The above quote, delivered by a Shakespeare character who languishes in a toga and summons and dispatches amusements with a hand-wave, could be just as aptly spoken by you tonight or tomorrow at Someday Lounge, which will trot out not one, not two, but THREE theatrical spectacles to regale Your Grace, culminating in a giant-toad-hosted Puppet Slam. Last weekend, puppeteers presented a preview vid, featuring 20-odd puppets in an epic singalong to Klaatu's "Calling Occupants Of Interplanetary Craft," proving not only the puppets' cuteness, but their hipness to stellar retro B-sides.
Prior to the puppet chicanery (and sold separately) are two original comedy plays–-one a beach-kitsch noir, and the other a vampire rom-com—-which Culturephile caught last weekend. Click here to read a review, or just take our word: they're far more solid than they sound. So, unfurl your toga on a Someday Lounge chair, and let the revels and diversions parade past. It's the next best thing to being hand-fed grapes.

The performance of Beach Blanket Beyond and Alba The Vampire starts at 7:30, and Puppet Slam starts at 10pm. For a more comprehensive list of upcoming events, visit the Arts & Entertainment Calendar!