phile under: TBA 2010
TBA 2010: Japanther vs. Night Shade
Shady punk-rock antics warm up The Works and kick off TBA.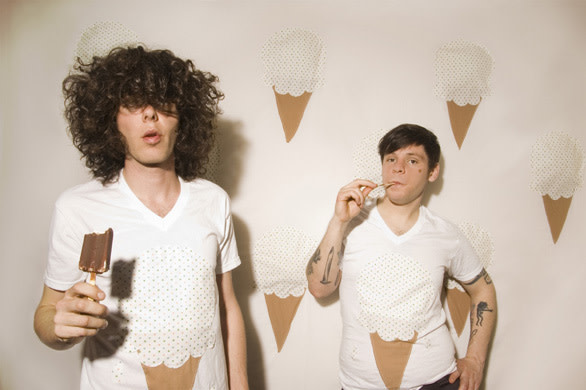 They started strong, with spooky sound-effects and intricate silhouette images. Within the first few seconds, we saw haunted houses, hooded graffiti artists, and a morphing man-panther. Moments later, security concerns cast a wan light on Night Shade's performance. Several house lights, presumably switched on to provide fire safety to a capacity crowd, effectively dimmed the impact of the stage's shadow-play, even as a seemingly bad live sound mix dulled Japanther's musical moxy.
Still, the following images surfaced in the warped melange, while Japanther kept time with their thudding aggro punk:
girl licking giant ice cream cone, then giant lollipop
eel, jellyfish, octopus (or squid?)
giant monster squid ravaging a building, and possibly a suspension bridge
graveyard
bust of Swedish playwright August Strindberg
stained-glass window
Chinese-style demon,
monster truck with a chainsaw-wielding passenger
motel sign
giant claw attacking Japanther while they played
several words, including "Wolfenswan" and "juice"
an Escher-esque group of eyes morphing into a school of fish
a many-armed man in a bowler hat and beard
a wolf mask on the drummer
angel wings on the bassist


Between songs, the band cued snarky samples and made defiant declarations into a megaphone, like:

"I don't give a f*ck if we make it; I'm living in the moment."
(while playing a Sinead O'connor sample) "We are confident in the victory. F*ck the Catholic church."
and, most triumphantly, "Live your own f*cking life and be yourself. This is what we're doing; we're being ourselves."
Eventually, they revealed those selves, tearing through the screen that had obscured them, inviting more musicians onto the stage, and launching into, frankly, a better-sounding second set. The crowd rushed the stage, now lit with a star-sprinkled backdrop, and began a hopping impromptu dance party. And with that, kids, TBA at The Works has officially been broken in.
For more information on TBA events, visit PICA. A more comprehensive list of upcoming events can be found at our Arts & Entertainment Calendar.