phile under: TBA 2010
TBA 2010: Mike Daisey
The Agony And The Ecstasy Of Steve Jobs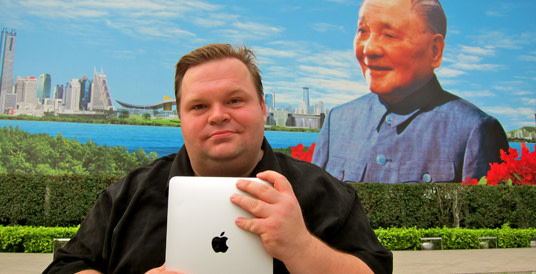 Furnished with nothing but a glass of water, a table and chair, and a passionate, well-informed message, Mike Daisey held the crowd's rapt attention for two hours, and earned a standing ovation. A facile narrator, Daisey wove together two parallel stories: the info-taining tale of the rise, fall, and resurrection of Steve Jobs' career; and a moving memoir about how his own love affair with technology, led him to a shocking truth. Daisey traced his treasured Apple products to their manufacturing base in Shenzhen, China—a city "that you never knew existed, where all of your stuff is made," and now makes it his mission to educate the West about Chinese mega-factories and their deplorable worker abuses.
But Daisey's no placard-waving, boycott-pushing luddite. "What are we going to do?" he quips, "Give up all our devices and live in yurts? These devices are magical, and they are tools. The companies that make them are always evolving, and they can—and must—be moved."
Daisey has been touted by the New York Times as "one of the finest solo performers of his generation" and indeed, his work is as descriptive as Spalding Gray, as passionate and irreverent as Henry Rollins, and as enlightening and thorough as the best TED talks.
In contrast to last night's devil-may-care Japanther antics, and Rufus Wainwright's cavalier charm, Daisey coaxed us to stand up for a message that will continue to matter after curtain-call.
Daisey has several more scheduled performances at TBA 2010. For more information on TBA events, visit PICA. A more comprehensive list of upcoming events can be found at our Arts & Entertainment Calendar.