phile under: TBA 2010
TBA 2010: Charles Atlas
With Merce: A Few of my Favorite Things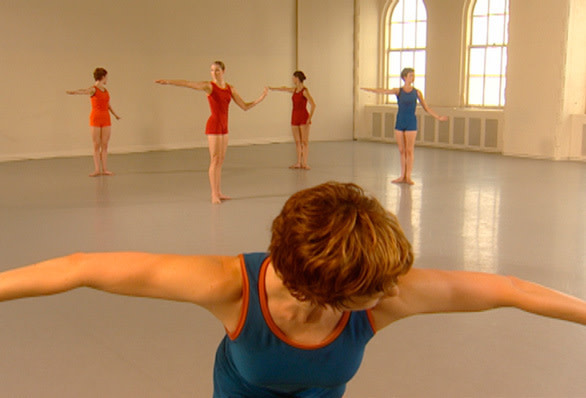 Rifling through an artist's scrapbook is always fun—especially when that artist is the adventuresome filmmaker and video-artist Charles Atlas, and his collaborator is the great Merce Cunningham. This afternoon's With Merce screening was a selection of excerpts from films made with and about Cunningham, several of them rarely seen. It was especially poignant to see footage of the choreographer in his final, frail years, and to remember that, with the Cunningham company even now on its legacy tour, these marvelous Atlas films will be one of the chief ways in which he and his art are remembered.
Here are a few highlights from the event:
1. "Just Dancing:" Cunningham alone in his studio, making his rickety way in big black orthopedic shoes to dance at a barre in the room's center. The music? House, naturally, perfectly fitted to Cunningham's fluttery, vaguely vogueing arm and torso movements. Even his white nimbus of hair got a little funky. This baby was made for YouTube.
2. Later, during the Q&A, someone asked if MC went out dancing much. Atlas answered: "He did when he was young. He'd tell me stories about going up to Harlem. I always wanted to take him out but he never wanted to stay out that late. But he was great at the disco. In Greece one night, he was kind of drunk [and we all went out]. He didn't remember it the next day."
3.What fun to catch glimpses here and there of the former Cunningham dancer Cédric Andrieux, who is performing an eponymous solo by Jérôme Bel at TBA this year. It's not to be missed. Seeing him today in these films after listening to him last night, it felt like seeing a much-loved friend or relative.
4.In one breath-catching instance, Atlas slipped into present-tense when talking of collaborating with Cunningham. It was easy to pretend for that moment that MC was still among us.
5.It's nice to know even brilliant artists make lousy home videos; Atlas showed a few snippets of the fuzzy, totally manic camcorder footage Cunningham recorded when he first started making recordings.
6. And, always, the swooping, decisive eye of Atlas' camera. How lucky, for us, that he and Merce Cunningham found each other.
For more information on TBA events, visit PICA. A more comprehensive list of upcoming events can be found at our Arts & Entertainment Calendar.