phile under: TBA 2010
TBA 2010: Danielle Kelly and Noelle Stiles
Blanket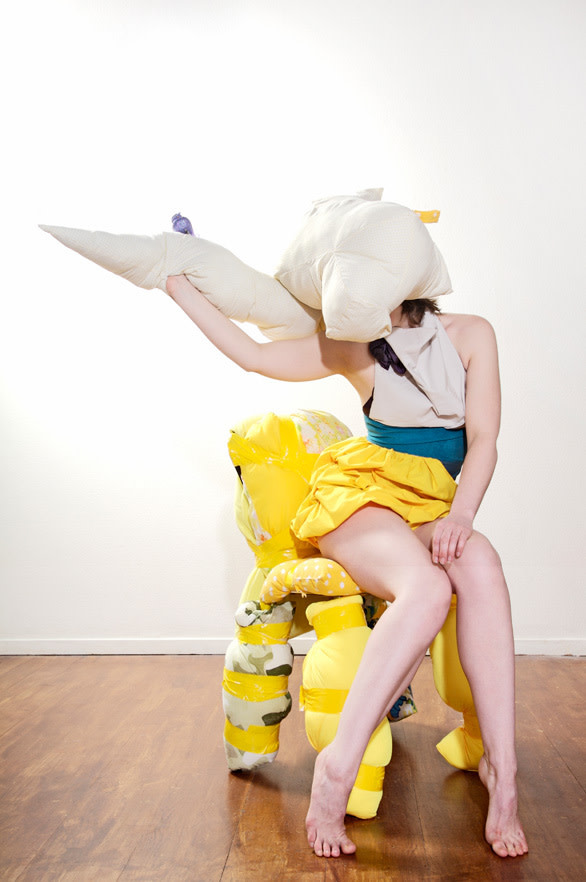 Danielle Kelly's stuffed hanging fabric sculptures are something like Etsy meets Takashi Murakami, with a twist of Louise Bourgeois. Sitting amongst them today at Blanket Project Space, the afternoon sun streaming in through a wall of windows, it was easy to feel as though I'd wandered into some groovy adult nap-time session.
This sensation was encouraged by "Blanket," a solo conceived by Kelly and the choreographer Noelle Stiles, featuring dreamy, atmospheric music by Unrecognizable Now with Delaney Kelly (Deelay Ceelay). Stiles is a clear, grounded mover, and there were lovely moments throughout, as when she wended her limbs through Kelly's lumpen forms, or donned heavy, tassled appendages and sank down on all fours like a big cat.
But "Blanket," though only 45 minutes, felt too long, staying in the same languid space without developing or deepening its investigation. Business-like transitions, which enabled Stiles to slip into various fabric props, further weakened the work's spell. It's not so easy to give gallery-based dance a compelling conceptual arc beyond the initial pleasures of being in an alternative space.
Toward the end, I found myself impatient with this lullaby, and eager for something a bit more bracing. Naps have a shelf life, usually pretty short.
For more information on TBA events, visit PICA. A more comprehensive list of upcoming events can be found at our Arts & Entertainment Calendar.