phile under: TBA 2010
TBA 2010: Ten Tiny Dances
Introspection, iconoclasm, erotic exploration—and, fruition!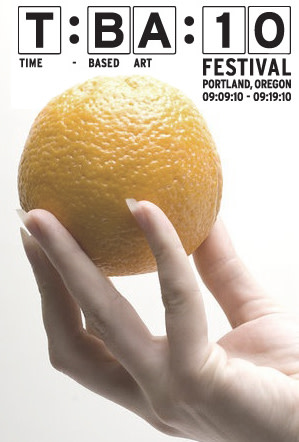 The phrase, "in case you missed it," feels particularly apt for Ten Tiny Dances, which, due to its popularity and rarity, is always packed. Last night was no exception, with one of the three lines extending all the way along The Works' north face. It's entirely possible that some of that line got turned away. So. In case you missed it:
1. Sink started with swimming, and ended with trampoline-jumping, but Anne Furfey's tone was less recreational, than introspective. Some movements even seemed to imply a struggle with body and health. Shadowy shapes ushered us in and out of a personal process.
2. A Version Mike Barber and Cydney Wilkes played a sophisticated 1960's couple trying to dance together on a trophy-lined stage, as schmaltzy lounge music gradually warped and slipped out of key. They began to imitate the poses of the little golden figures, and tried to ballroom-dance while clutching them. Humorous? Definitely. But also a provocative commentary on how public accomplishments and personas, awkwardly encroach on private affairs.
3. City With a futuristic, aquatic costume and swimming, striving movements, Katherine Longstreth established a tone of mystery and confusion. Cue Copland's Fanfare To The Common Man, and Longstreth donned a pair of pinstripe pants, as if to say, "Enough with all the wishwash; I'm now resolute."
4. Dayna Hanson A slow, slightly rock-and-roll rendition of the American National Anthem (a la Jimi Hendrix) introduced nine dancers, semi-clad in colonial garb. An amusing solo impersonation of an animatronic theme-park George Washington gave way to "the robot," leading into a regimented-yet-thumping Daft-Punk-style ensemble number (think Michel Gondry's dancing mummies in Around The World). Culturephile guest blogger Claudia La Rocco was less-than-impressed with Hanson's longer work, but for 5-odd minutes on the Tiny stage, Hanson entertained.
5. Nigh Linda Austin's tentative exploration of white paper layers, gradually evolved into complete absorption in the material, complete with rhythmic rocking, a shuddering buildup, and finally, thrashing orgasmic climax. A soundscape which started out literally "pedestrian," (with sounds of human milling-about) here and there revealed labored breathing. Gradually, more sounds emerged: cars and trains. Possibly helicopters. Embodying that universal erotic feeling of being simultaneously transported—and run over—by a train, Austin brought a resonant take to a common theme.
6. La Chaim Crimes & Punishment This piece began sort of like an updated Swan Lake, with Wooly Mammoth Comes To Dinner using repetitive, flappy gestures, including some odd animal kinks. (Brisk, deep butt-scratching, for example—very common in animal grooming, relatively rare on stage). Two pretty brunettes in black seemed to move together, while a third dancer in a yellow ski mask seemed to flounder. The tone changed when the birds bared their breasts, then huddled on the floor moaning, "Why'd you leave?" putting the prior preening, into the context of courtship. "Hold on," exclaimed one, "There's something in my pants!" The hypnotic flapping moved below the waterline, and three desperate ducklings emerged as self-satisfying swans.
7. Clearly Another World First fetal, then seemingly free-falling, Eric Skinner, like the night's other soloists, gave us a window into a personal struggle and transformation. Like Nigh, this piece began with ambient city noise, and crescendoed. However, here the crescendo came midway through, and the implication was anxiety. Skinner stared into all four corners of darkness, as if desperate for escape. Enter the soothing resolve of Antony & The Johnsons' Another World: "I need another place…I'm gonna miss the scene…." More statuesque poses that seemed to depict slo-mo falling, showed graceful resignation to a stress-lessening life change.
8. Dance #1 Michael Rioux is a self-described "creative," with an affable bravado and a cunning ability to tap a crowd's pulse. "Hi, everybody, we're gonna have a real good time together, but FIRST—two things." Rioux announced, into a room that had seen so much wordless dance, that speech seemed shocking. "Art is important." Pause. "But ARTIST STATEMENTS, 70% of the time, are total bullsh-t, in my opinion." At that point, Monica Gilliam began a graceful but seemingly unchoreographed dance, while Rioux led the crowd in a chanted mass mission statement: "I want to make the world a beautiful place to live," followed by a brief crowd-participatory bootyshake. "If you're not here to shake it," he exclaimed, "you might as well take your dead ass home." Some people can get away with spontaneity and irreverence. Michael Rioux is one of those few.
9. Culture Machine: Sattelite No. 6 With the ice broken by Rioux, Tahni Holt's dance troupe emerged in bright leotards and wavy blonde wigs to—um, finish the job. The microphone-wielding group immediately launched an overlapping, overwhelming torrent of showbiz-interview patter. "Hi, I'm Stanley Kubrick" said one. "Laurie Anderson, Jim Henson, Kurt Loder." the others chimed. Then all four talked in tandem, introducing themselves by various names, and pedantically droning about their projects and philosophies as they rocked back and forth in a constant rhythm of unimpassioned coital reception—a theatrical manifestation of "media whores." The subversive troupe even name-checked Linda Austin, to the crowd's contained delight.
10. Mike Daisey The popular spoken-word performer closed Ten Tiny Dances with a characteristic call to action. Daisey entered the space with his nose buried deep in a TBA program, while an un-credited female performer seductively proffered an orange. Abandoning the program and fixating on the prize as it moved ever-closer to the woman's pelvis, Daisey eventually plunged in for a bite. The message: Don't analyze, criticize and categorize. Just partake in the delicious freak-fruit.
For more information on TBA events, visit PICA. A more comprehensive list of upcoming events can be found at our Arts & Entertainment Calendar.