phile under: TBA2010
TBA 2010: Zachary Oberzan
A Few Things You Should Know About "Flooding with Love for the Kid"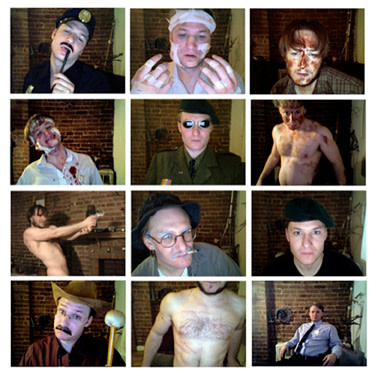 What do you get when you mix one man, a driving obsession and a 220-square-foot studio apartment in New York?
An epic film, of course: Flooding with Love for the Kid, Zachary Oberzan's adaptation of First Blood (the David Morrell novel which gave us Rambo). The film will be screened tonight through Wednesday, and I strongly urge you to check it out. Oberzan is one of the original members of Nature Theater of Oklahoma, where he helped to create the related theatrical production, Rambo Solo, which hopefully will make it out to TBA before too long. He has also performed with the Wooster Group and is currently touring his own work. He's got serious acting chops, and the mere fact that he was mad enough to make this film makes me smile (let alone that he pulled it off, and how).
But enough about what I think you should know about Zachary. Here's what he thinks you should know:
Eleven things I want you to know
1. There were 3 rules I set at the beginning of the project.
2. The first rule was I had to do everything myself, just as Rambo had to wage his one-man war by himself.
3. The second rule was that the whole film would be shot in my apartment, using only things that already existed in my apartment, just as Rambo only had what was at hand out there in the Kentucky woods.
4. The third rule was that it was a completely accurate transposing of written word to film. Every scene in the book is in the film, and nothing else, every line of dialogue in the book is in the film, and nothing else.
5. I bent the second and third rules very very slightly. I brought in some pine branches from the park. And I changed a few words. But the first and most important rule remained intact.
6. First Blood is a really great book. I've read it more than any other book. It's my favorite. I think my second favorite is The Catcher in the Rye, or maybe Breakfast of Champions.
7. I thought it would take a year to make my film, but I became very obsessed with it. In a good way. It was so much fun. So it only took about 7 months. I made it in 2007, when I was 33.
8. Most of the budget went to tapes. I spent $60 on 12 mini dv tapes.
9. I didn't expect anyone to see it.
10. You can watch the Making Of documentary, I Shot Him and All at Once I Didn't Hate Him Anymore online at my website.
11. I'm going to make a 50 million dollar version, on location in Kentucky. I'll probably play Teasle.
Flooding with Love for the Kid
For more information on TBA events, visit PICA. A more comprehensive list of upcoming events can be found at our Arts & Entertainment Calendar.