phile under: TBA 2010
TBA 2010: Maria Hassabi
SoloShow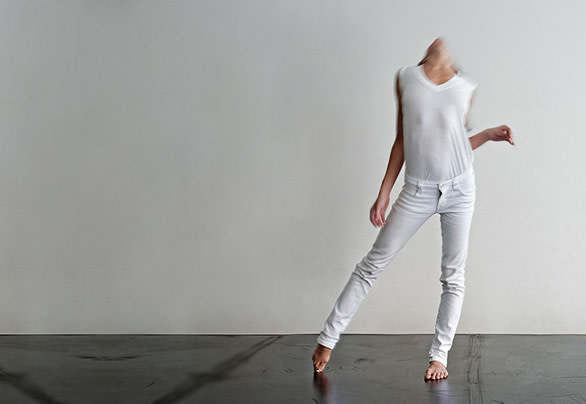 "What I want the audience to do is look."
Maria Hassabi, a Cyprus-born, New York-based choreographer with an impressive body of finely-calibrated, nuanced works, is enjoying a post-show cigarette and glass of wine. She's just performed SoloShow at the Imago Theatre; the hour-long dance continues her sharply focused investigation of the female form: how it moves, how it is portrayed, how it is watched.
"My research is something female artists have been doing since the '70s—what's new that I can bring into this?" she explains in her husky, insistent voice. "I'm dealing with the body, away from everything else. The body has breath, weight; it makes noise, it transforms itself."
Though Hassabi cycles through a series of (often extreme) poses in SoloShow, her body quivering with the effort of coiled stillness, she is never static. She is presented on a low platform, enveloped in James Lo's ambient collage score and extravagantly lit by Joe Levasseur, so that at times she becomes an exotic, abstracted object. But of course she is both object and agent. I thought at one point of Marina Abramovic's 1974 performance Rhythm O, in which audience members could use any of 72 objects on the artist, who assumed an ambiguous form of control by surrendering herself to the crowd.
But Hassabi is on display, only, a remote creature who eludes didactic theories and easy summations.
"My wish is a shift in perception, but from then on…" she trails off, and then offers a wry smile. "I know I'm taking the risk of a lot of people sleeping; that's the nature of slow work."
Slow, yes. But full of so much information, in every beveled ankle and cocked hip.
For more information on TBA events, visit PICA. A more comprehensive list of upcoming events can be found at our Arts & Entertainment Calendar.