phile under: TBA 2010
TBA 2010: Elizabeth LeCompte (The Great)
Elizabeth LeCompte of The Wooster Group In Conversation with Geoff Abbas (The Wooster Group) & Kathleen Forde (EMPAC)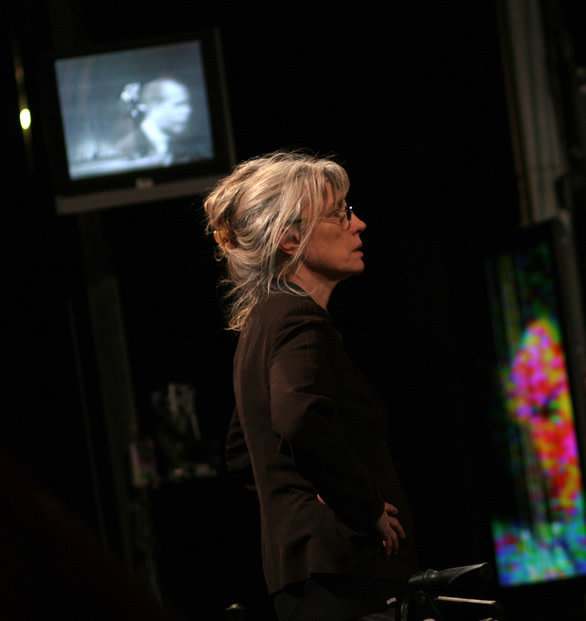 I've been a professional arts journalist for about a decade now, and I've had the great good fortune to have access to hundreds (thousands?) of interesting, talented, famous, weird, delightful, and abhorrent individuals in that time. When I was just starting out I got starstruck pretty easily. These days I'm not so often made giddy, but there are exceptions. Baryshnikov, for example. (but, really, who isn't dazzled by this man? It's always fun to watch the heads turn when he walks through a gala). Or John Ashbery.
And, of course, Elizabeth LeCompte. I still remember the first time I watched her preside over a Wooster Group rehearsal, snapping out corrections, digressing for sarcastic asides and sipping, all the while, from a generous glass of red wine. Can anybody best her and her Woosters when they're on top of their game?
I'm inclined to say no. I've just come from about a half hour spent twirling myself around on a revolving stool, watching There Is Still Time…Brother, the 360° interactive film installation showing through the 18th. Please go see it. If you don't see anything else at TBA, don't miss this. I plan to go back tomorrow and camp out for a couple of hours at least. It's my favorite kind of art: a lush, entertaining feast for the senses that can be taken in as entertainment, structural marvel, conceptual puzzle or all of the above.
Because one person controls where everyone in the audience must focus their attention, and because many of the interwoven narrative threads deal (non–didactically) with thorny issues of war and a media-saturated culture, "There Is Still Time" is also a meditation on what it means to be an audience member (read, citizen; that old "right to swing your fist" adage) in a fraught society, where the desires of many are balanced against the power of the few. And about accountability and public expectation; if you're the one in the magical high-tech chair, who controls what we all see, you have the power, yes; but you also know that the rest of us are judging what you're choosing to watch, and what you choose to look away from.
"It's not so much an anti-war film as a film about war, and how we deal with war," LeCompte said at a panel discussion earlier this afternoon. "I wanted people to have to make choices, in public. It's about voyeurism and viewing. What we choose not to hear."
This isn't, obviously, a live piece, but it's absolutely time-based. Only improvisers as nimble and practiced as Ari Fliakos, Scott Shepherd and Kate Valk could pull off the high-wire act of being filmed, simultaneously in one shot, reacting to their colleagues' monologues while all having different texts pumped into their ears. Astounding. I can't wait to go back for more.
Elizabeth LeCompte of the Wooster Group In Conversation
For more information on TBA events, visit PICA. A more comprehensive list of upcoming events can be found at our Arts & Entertainment Calendar.