phile under: TBA 2010
TBA 2010: Shirin Neshat
Women Without Men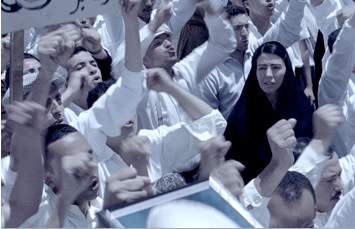 I still remember my first direct encounter with one of Shirin Neshat's video installations: Tooba, in 2003 at the Asia Society. I was blown away by the combination of its sheer sensuality (at once lush and stark) and biting political indictment. How could such an otherworldly fable speak so directly to the world?
Yesterday, I finally watched Women Without Men, the Iranian artist's feature-film debut (Tonight is the final showing). I was blown away all over again, and intrigued to realize that it and Tooba have the same source material, the eponymous Shahrnush Parsipur novel. It makes sense; this film feels like something its maker has sat with for a long time, turning it over and over in her head and heart until its many separate layers have yielded something new and mysterious.
Women Without Men, which follows the interwoven stories of four heroines, is set in Iran in 1953, and is dedicated to "those who lost their lives in the struggle for freedom and democracy in Iran, from the Constitutional Revolution of 1906 to the Green Movement of 2009." Neshat's political urgency is an unmistakable driver; but it never fully consumes her art, so that meanings remain marvelously ambiguous. (In my mind, the film is in total conversation with the Wooster Group's TBA offering.)
Last night at dinner (Nostrana, hurray!), a colleague and I spent at least a half hour puzzling over its multiple strands, teasing out possibilities and interpretations—and then simply delighting in Neshat's virtuosic camera. We gushed over individual scenes like they were delicacies (the fallen Garden! the long empty road under a big sky! one character's ghostly "baptism"!). A true feast.
For more information on TBA events, visit PICA. A more comprehensive list of upcoming events can be found at our Arts & Entertainment Calendar.