phile under: TBA 2010
TBA 2010: Nature Theater of Oklahoma
Romeo and Juliet … take two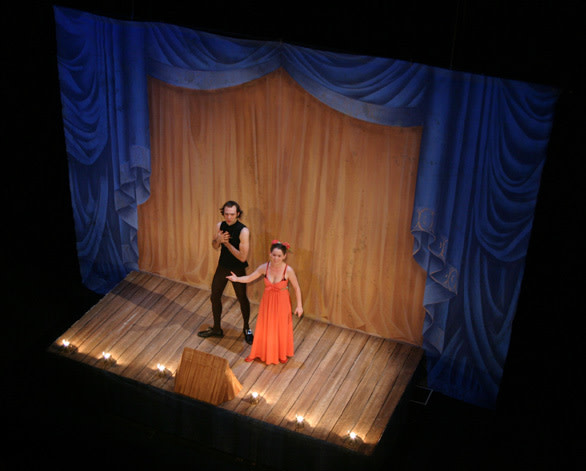 I don't typically get to see shows more than once in New York, especially new, progressive works, which have all-too-short runs. Really, given the volume of stuff to be seen, I'm often lucky to catch something once. In fact, it's a running joke among dedicated audience members that we're relieved when a trusted source announces such-and-such hot new work is terrible. Hooray! We can cross it off our to-do lists!
In an ideal world, repeat viewings wouldn't be such a luxury: shows change (sometimes drastically from opening night, when I often see them) and, as importantly, we change as viewers. On those occasions when I do see something again, it's not unusual for my opinions to shift, or even flip flop. Not to mention the fact that memories are notoriously unreliable guides, getting all gummed up with nostalgia and the like. If I had a dime for every older critic who told me Ballet X was never again as good as when Ballerina Y performed it…
In the coming days I'll be re-seeing several works, including Romeo and Juliet, which I watched almost a year ago. Back then my feelings were decidedly mixed. "It's terribly funny, too funny at times for its own good, with teasing glimpses of a beating heart," I wrote.
I'm a big fan of Nature Theater's muscular re-purposing of found language; in the company's best works, like the magical No Dice, the often verbatim reproduction of present-day speech by a skilled ensemble presents a complex, funny, fraught portrait of what it's like to be alive right now. And how difficult it is to try and communicate that experience to others.
In R&J, Anne Gridley and Robert M. Johanson offer dueling interpretations of the famous play, their halting, frequently nonsensical tellings cobbled together from interviews the company conducted with a range of folks, many of whom almost entirely mangle the story. At the time, I remember being tickled and then worn out by the unrelenting laugh-track pace. I wanted the performance to go somewhere surprising, to take off. Or at least shake off its mantle of cleverness.
But who knows; maybe the fault lay within. Let's see how I feel this time; one of the nicest things about being a critic is being able to reverse your opinions. Ego aside, it's never a bad thing to wonder "What on earth was I thinking?!"
For more information on TBA events, visit PICA. A more comprehensive list of upcoming events can be found at our Arts & Entertainment Calendar.