phile under: TBA 2010
TBA 2010: Nature Theater of Oklahoma, Re-Viewed
Romeo and Juliet … take two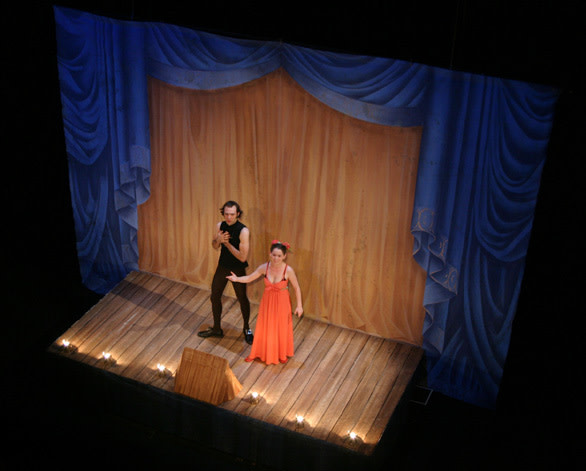 My first day in Portland, I wrote about my interest in seeing Nature Theater's Romeo and Juliet again, an opportunity for reassessment that doesn't come around as often as you might think.
Well, I saw it again last night.
And…I still don't entirely know what I think of this R and J, which features a long series of dueling monologues, delivered by two actors, in which the play's details are badly remembered. So much for clarity through repetition. I should see it a third time, I probably won't understand a single line; I'll be too busy battling my memories and expectations.
Several of my original complaints remain—mainly, as my friend and colleague Alexis put it with wrinkled nose last night at dinner (Olympic Provisions, yay!), that the show is "Technically impressive. And light." And I still found Robert Johanson's stage presence more convincing and expansive than Anne Gridley's (who I've liked very much in other works), though both are terrifically funny in their absurd—and, at moments, absurdly touching—send ups of bad Elizabethan actors and the half-baked but deeply felt ramblings of various people trying to remember just what the hell happens in the iconic play.
But I was more moved this time by the work's heart, a bumbling meditation on vulnerability and desire which the actors argue their way through when they finally find themselves facing the audience at the same time. This is the piece, I thought last night. The rest is a laborious framework, one I'm not convinced is necessary.
But. I'm not unconvinced, either. What can I say, I've seen about 15 works and written almost 20 posts this past week; the circuitry is beginning to unravel. Long live art (even if badly remembered). And critical confusion.
For more information on TBA events, visit PICA. A more comprehensive list of upcoming events can be found at our Arts & Entertainment Calendar.