phile under: TBA 2010
TBA 2010: Emily Johnson/Catalyst
The Thank-you Bar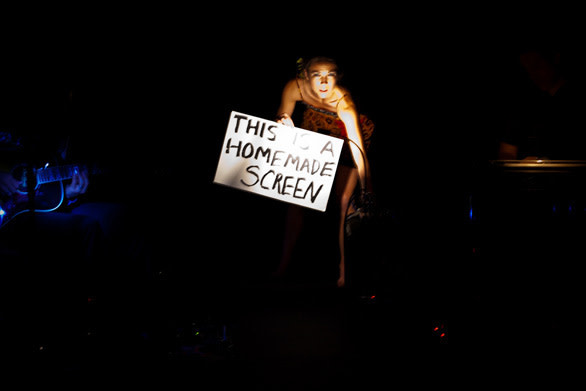 You know that thing little kids do sometimes when a new person comes into their home, and they want to please and impress the guest so they rush around, showing off their things and themselves?
That daffy, manic energy coursed through The Thank-you Bar, an uneven but compelling dance-theater piece by Emily Johnson, featuring a gorgeous live score by James Everest and Joel Pickard (the two men will perform Sunday night at the Imago; if I were still in town I'd definitely be there). And gradually the shadings under Johnson's need to please darkened, as it became clear that this work is also about meeting (and destabilizing) expectations on another, more volatile level. Johnson, who grew up in Alaska and is of Yup'ik descent, tells the story of being ethnically outed by a friend in grammar school, and then denying it to her frightened and maybe hostile classmates "to save my own skin."
These tangled identity politics somehow don't subsume this surprising work, which hops between moods and modes of storytelling. The (very small) audience first sits in a semicircle, watching Everest and Pickard build a looped score layer by layer. It's a wonderfully gentle beginning, setting the tone for all sorts of show and tells, communicated through words, music and movement (she is a sharp and surprising dancer, a pleasure to watch). At one point Johnson wheels out a tiny makeshift igloo built of brick-shaped paper lanterns, which she hands out to audience members; we hold them as if holding her imagination in our laps. Later she tells a story of the blackfish, spinning a metaphor of survival and cultural endurance.
At times I wanted The Thank-you Bar to settle just a bit, for Johnson to take a breath and trust in the work's quieter strengths. The brief, late entry of a fourth performer seemed unnecessary clutter; likewise some of Johnson's reconfigurations of the space were unwieldy, offering too little payoff. But it's hard not to be charmed by Johnson and her collaborators, and impressed by the delicate balance she strikes; I'd like to see more, soon.
For more information on TBA events, visit PICA. A more comprehensive list of upcoming events can be found at our Arts & Entertainment Calendar.