phile under: TBA 2010
TBA 2010: Jessica Jackson Hutchins and Storm Tharp
Children of the Sunshine and High House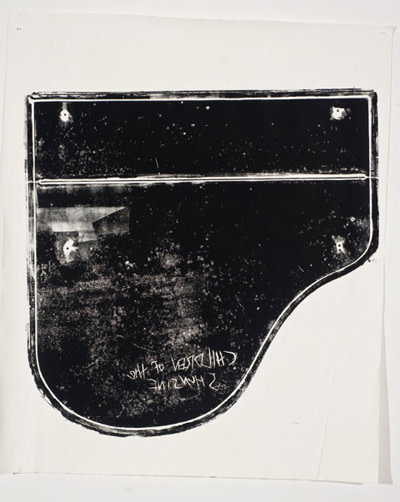 You could say that all art is time-based. And attention-based. That's all you ever need to really see something. Simple, but often difficult.
Yesterday afternoon I got a little bit of a breather from TBA's performance schedule, so I walked across the Hawthorne Bridge and made my way to Washington High School, where I spent some time with installations by Jessica Jackson Hutchins (Children of the Sunshine) and Storm Tharp (High House). Their rooms are side by side on the second floor, and share a certain energy, with their mix of everyday and art objects and their emphasis on the domestic and the private.
But Children of the Sunshine, a sparer, darker (literally) space, resonates a sadness and earthy nostalgia in its (ceramic, video and print) ruminations on a battered old piano, a homely repository for the imagination, and the past. I recognized something in there, and didn't want to stay too long in that empty classroom, on a late-late summer afternoon, with thoughts of loss already all-too-present.
"When work has a critical distance it's safer .. it's a lot easier to write about," Hutchins said today, at a noontime chat with Tharp. "It doesn't interest me, it's too explainable .. it avoids an ineluctable mystery about the self."
High House, true to its name, feels like a room set high atop the hills. Tharp has filled (but not overcrowded) the pristine white space with meticulously placed collections of paint jars (with names like "Chinese red"), succulent plants, books on Alaska and David Hockney's drawings, delicate furniture and handwritten notes. His paintings and drawings adorn the walls. It's easy to be fully present in a high house; you feel something good will happen if you wait for it. And then you realize the good thing is already happening.
"I'm fascinated by the idea of anything becoming what it wants to become," Tharp said, describing "the way ink bleeds in water and goes in a wild rush from black to clear."
It wasn't until the room was assembled, he said, that he realized what it was about: gratitude.
For more information on TBA events, visit PICA. A more comprehensive list of upcoming events can be found at our Arts & Entertainment Calendar.