phile under: books
From Brews To Bikes: Portland's Artisan Economy
Art Department hosts book release.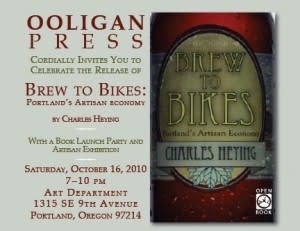 A book about microbrews, bicycles and artisans. Allow me to translate: "three things Portland loves, inside another thing Portland loves."
Does that mean you'll love this book? Maybe. Culturephile hasn't seen it, and can't say. But you might as well stop by Art Department to have a look, and simultaneously sample New Deal Distillery's wares, and let your kids try their little hands at bookmaking crafts.
Displaying artisans include: Emily Katz, David King Bass Guitars, Langlitz Leather, Mudeye Puppet Company, Pereira Cycles.

Art Department is located at 1315 SE 9th, and this event runs 7-10pm. For a more comprehensive list of upcoming events, visit the Arts & Entertainment Calendar anytime!