phile under: live show review
Show Review: Die Antwoord at Crystal Ballroom
If you don't know Die Antwoord yet, you will. Don't put off the inevitable.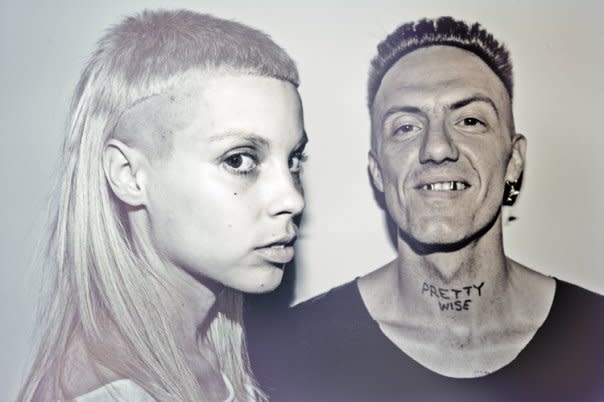 If you don't know who Die Antwoord is, ask the internet, or ask your kids. But proceed with caution: what you find might shock you. The Afrikaans hiphop troupe takes profanity and rebellion to new planes. Why cover them, you ask? Because they're also one of the fastest-growing viral video phenomena, and—love or hate them—they are amazing. Last night, they packed the Crystal Ballroom to its creaking gills, and rest assured: they'll soon be included in every pop-culture conversation.
To the pants-flinging, crowd-surfing delight of last night's all-ages audience, Die Antwoord looked exactly like they do in videos, and did exactly what they do in videos. They wore the same costumes and looked just as good in them. They worked the same dance moves, and, amazingly, rapped at the same breakneck speeds, without any reliance on vocal backing tracks. This band has basically drawn a cartoon of themselves, and stepped into it—a savvy maneuver that most bands can't or won't master. Those that do, poise themselves for legend status. From Lady Gaga back to Dolly Parton, it was ever thus.
The group, formed in a close-knit but run-down mobile home community in Capetown, South Africa, consists of Yolandi Visser, a bizarrely beautiful blonde barbie-alien with a squeaky voice, "Ninja," a Vanilla-Ice lookalike with home-done tattoos, and a dude named DJ Hi Tek. The three have designed a distinct visual vocab, featuring a few repeating motifs.
You'll know it's Die Antwoord when you see:
Trailer Slum Scenery The band has shot several videos in their Capetown home 'hood, cutting in footage of toothless and sometimes limbless neighbors, broken-down cars, rickety mopeds and liquor bottles. There is an exoticism to the landscape and climate, but an overt and omnipresent poverty.
Black and white cartoon graffiti They wear clothes emblazoned with it, they project it on a screen, they drape their DJ booth in a graffiti banner. It's one of their "things." If at any point, the whole world seems to go black and white and scribbly all over, you'll know who to blame.
Rats They dress like them, they drape themselves in them, they let them walk around on video sets. I was actually a little surprised there weren't any live rats onstage last night. They're a recurring theme in the band's art—and, if you buy their ghetto cred—their lives.
Schoolgirl alien chic Yolandi Visser, though reportedly 28, is very tiny, and resembles a very va-voomy child mannequin. She only appears as a schoolgirl in one Antwoord video, but with her youthful looks and voice, the impression is indelible. When she gets explicit (and she frequently does) the effect is, shall we say, arresting.
Porn One of the most unique things about this band is its incredibly casual use of nudity, and offhanded, offcolor reference to sexual practice. Whether you think it an evolution or devolution, it is, in Antwoord parlance, "next level." And there is a sense that it comes from an ironically pure origin: an upbringing with few other toys at hand.
80's Clothes When I was in high school, I volunteered for a local charity sorting bales of donated clothes for shipping to Africa. I think that I remember folding and boxing the clothes that Die Antwoord is currently rocking. Their hard bodies and harder demeanors sell these technicolor togs so well, I almost want them back.
Mullets Remember Vanilla Ice's Hair? The shave-sided top-thatch? Well, the Antwoord member who goes by Ninja, is single-headedly bringing that back. And he looks like if you tease him about it, he will cut you. Meanwhile, aforementioned mannequin anime babe Yolandi wears a shave-edged mullet, super-short on top and long in back, that she claims her mother cuts for her.
"Zef" Apparently a South African slang variant of "def," loosely translating as "cool" or "awesome," the word "zef" has been heavily co-opted by Antwoord. Ninja predicts that "zef" will soon replace "apartheid" as the first word foreigners associate with South Africa.
All novel gimmicks aside, the band wouldn't be growing if their musical structures weren't so undeniably complex, fresh, and catchy—or if their live show weren't so physically, emotionally and technically perfect. But setting all their trappings aside is impossible. Die Antwoord is a package deal, and last night's turnout proved it's a package everyone's buying.
Culturephile features both previews and, as above, reviews. For a comprehensive list of upcoming events, visit the Arts & Entertainment Calendar !