Halloween Picks
Ghouls Night Out
Halloween happenings: from Deadbolt to dancing with blood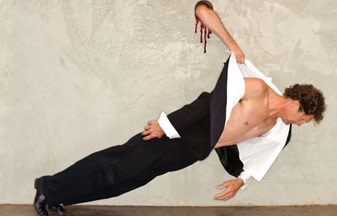 You thought your significant other wanted to stay home and watch monster movies this weekend. Wrong! She really wants to stuff herself into the slutty witch costume that didn't get used last year (you didn't plan anything then, either). Quick, slap some "zombie makeup" on your grill and shuffle out into the night. We've selected a few destinations that offer an intriguing combination of scary, sexy, funny and, of course, blood-spattered.
Deadbolt at Dante's Take lots of eerie reverb, a foreboding baritone, greasy pompadours, and songs about voodoo-this and voodoo-that, and you've got a night with "the scariest band on Earth." That's exactly what garage-rockers Deadbolt claim to be (though perhaps "sinister" is a more accurate descriptive). The sexy quotient of this All Hallow's wingding is provided by Sinferno Cabaret, Dante's own fire-dancin', go-go burlesque ensemble. Sunday, 8pm. $12-13.
Toxic Zombie at Hawthorne Theater The kids prefer their Fright Night tuneage a bit less "nuanced." Horror-glam-punks Toxic Zombie host an all-ages Halloween Monster Party at the Hawthorne Theater. As far as all-ages costume parties go, this is a big one. Best costumes can win a guitar (sweet!) and other prizes. Hosted by ex-White Zombie drummer and current KUFO DJ Ivan de Prume, the bill includes Stonecreep, Ditch Digger and Church of Hate. Friday, 8pm. $10.
Blood Shack Tired of spooky sports arenas and haunted mega-malls? A newcomer to the PDX Halloween scene, the Blood Shack is inhabited in the only way a structure in short Southeast could be—by haunted hipsters. Besides the "nonstop orgy of gore" and lots of "ghastly sights," the Blood Shack offers creepy pinball, a beer garden, and the nightly wailing of local trash-rockers from beyond the garage. The Blood Shack is all ages and open seven nights a week. 55 SE Ankeny St. Mon-Wed 8pm-1am; Thurs 8pm-midnight; Fri-Sun 8pm-1am.
Psycho with the Oregon Symphony Get your fright night started early with Alfred Hitchcock's 1960 horror uber-classic, Psycho (on the big screen in the Schnitz, no less), while the Oregon Symphony performs Bernard Hermann's iconic, shrieking, nightmare-inducing score. Arlene Schnitzer Concert Hall, 4pm. $14-58.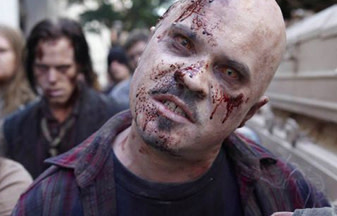 Dia de los Muertos For a more dignified and sincere version of those who occasionally rise from the grave, Teatro Milagro (or the Miracle Theater, en engles) hosts its annual Dia de los Muertos celebration with the live production of Viva Don Juan. The bi-lingual production explores the Day of the Dead holiday by returning the chronically amorous, yet long-deceased Don Juan to the world of the living. Miracle Theater/Teatro Milagro. Thu 7:30 PM; Fri-Sat 8 PM; Sun 2 PM.
Bloody Vox If it takes a little corn syrup to get you in the door of a "cultured" Halloween event, what's the big deal? During the Halloween season, BodyVox dance ensemble performs BloodyVox, a blood-spattered dance performance that includes zombies, vampires, and other outré creatures. And there's a gala fundraiser called the BloodyVox Ball! Better iron your cape, Count. BodyVox Dance Theater. Thu-Fri 7:30pm; Sat 2pm and 7:30pm. $20.
Scary Movie Horror Sci-Fi Improv The Brody Theater's Halloween show, Scary Movie, returns for its lucky 13th installment. The quick-thinking crew creates completely improvised and original horror and sci-fi "movies"; the double features are tributes to the golden age of horror and sci-fi movies of the 1930s-50s. Brody Theater. Sat-Sun 8pm and 10 pm; Halloween, 7pm. $7-10.
The Walking Dead Oh great. Now she doesn't want to go out at all. No problem, just stay home, hand out candy to the little monsters, and then turn on the premiere of AMC network's new "epic" post-apocalyptic zombie series, The Walking Dead, based on the awesome Robert Kirkman comic book. 10pm, Halloween, American Movie Classics, Channel 71.