phile under: theater
Lee Blessing's "Chesapeake"
Profile Theater wisely pairs playwright Lee Blessing with actor Todd Van Voris.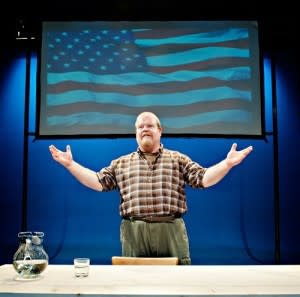 In my book, this production is two for two: it's written by Lee Blessing, and it stars Todd Van Voris.
In his recent Wordstock appearance, the venerated contemporary playwright Blessing performed a reading of Chesapeake. The script was full of surprises and fraught with ethical contradictions, but Blessing inhabited all roles (even that of the dog) with delightful humor and humanity. Meanwhile, his offhanded remarks revealed a fresh wit that extends beyond pen and page.
As Jamie in Artists Rep's summer production of Long Day's Journey Into Night, Van Voris proved himself a master of maneuvers both physical and mental, with energetic blocking and quick tragicomic transitions. His pratfalls were as believable as his adament drunken declaration, "I love your guts."
Put these two talents together, and what do you get? Unbeatable odds.
Chesapeake continues through November 21 at Theatre! Theater! . For more upcoming events, visit the Arts & Entertainment Calendar anytime!