phile under: gallery
Onda Closes
Latin American arts hub bids adios to Alberta Street.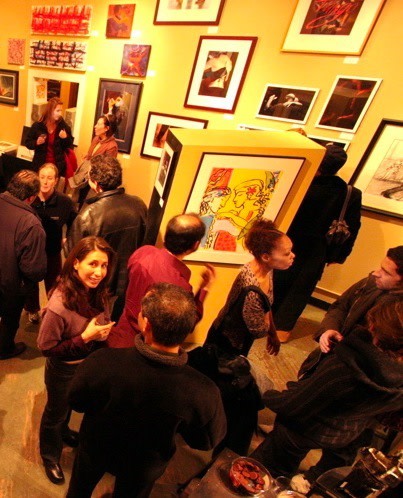 Ladies and gentlemen, we interrupt the Westside's usual First Thursday prefunc preen, to pass along this reluctant announcement from Alberta Street's Onda Gallery.
---
After twelve years at the forefront of the Alberta Street renewal, Onda Gallery will close its doors at the end of the year. The holiday show, featuring art work from Pacific Northwest, Cuban and Ecuadorian artists, will be the last art event at the gallery.
Founded as Onda Studio & Gallery by Allan Oliver and Deena Newman in November, 1998, the gallery began as a work space and a showcase for local and regional artists. Starting with a ground-breaking exhibit of Cuban art called "Touching Cuba" in April, 1999, the gallery shifted emphasis to artists from the Hispanic world with the name change to Onda Arte Latina. After assuming sole proprietorship in 2001, Allan Oliver curated over one hundred art shows with their openings on the Last Thursday of each month. His mission has been to introduce the Portland area art public to fine artists from Latin American countries, many of whom have presented their work in person, and to young, emerging and mid-career Latino artists living in the Pacific Northwest. Oliver also helped found Art on Alberta, the non-profit organization which promotes the visual art scene on Alberta Street and has developed a community of artists and art businesses, serving as president of the board for three years. The Alberta Art Hop was created by Oliver and Roslyn Hill in 2000.
In September, 2007, the gallery was purchased by Pablo Merlo Flores, a businessman originally from Argentina, whose wholesale business, Pampeana, represents fair traded gift items from Latin America throughout the United States. Oliver has continued as gallery director, collaborating with Merlo Flores in displaying unique craft pieces in addition to the fine art shows in the gallery. The gallery has maintained a distinctive and innovative presence in the Portland art community and has been a gathering place for Latino culture. The PDX Latino Gay Pride organization recognized Oliver and Onda Gallery in 2009 with one of their Mariposa Awards. The citation reads: "In honor of your outstanding service, commitment and contributions to our community."
The public and media are invited to the gallery's final party on Saturday, November 20, 6-9 PM. For more upcoming events, visit the Arts & Entertainment Calendar anytime!