Article
Review: Clinic at Doug Fir
Ade Blackburn charts his cult-beloved band's vital signs.
Despite the endorsement of Radiohead, The Flaming Lips and Arcade Fire, Clinic continues to slip just under the mainstream radar.
Maybe it's their defiance of commercial categorization.
Maybe their surgical masks conjure suspicion of SARS.
Or maybe it's this: intimacy is uncomfortable. Internal struggles tend to get under listeners' skin.
Clinic's music bores into soft tissues, shines a harsh light into dark corners, moves blood and bones. It is vital, and it's volatile. It's a familiar-yet-unsafe place. So while they might make their way onto a million mix-tapes, Clinic are a little too profound for parties.
If you're not familiar, just take a moment and play the song that earned the band a double encore at Doug Fir on Wednesday:

In the afterglow of their excellent show, I didn't want to ask Clinic about their masks. I think I get it, and I don't really care. What I wanted to know was, of all the emotions I experience when I hear Clinic, which moods does the band actually intend? Amid all the dynamics, where are the philosophical pinpoints? So I asked exactly that, by shyly slipping singer Ade Blackburn a red pen and the following chart: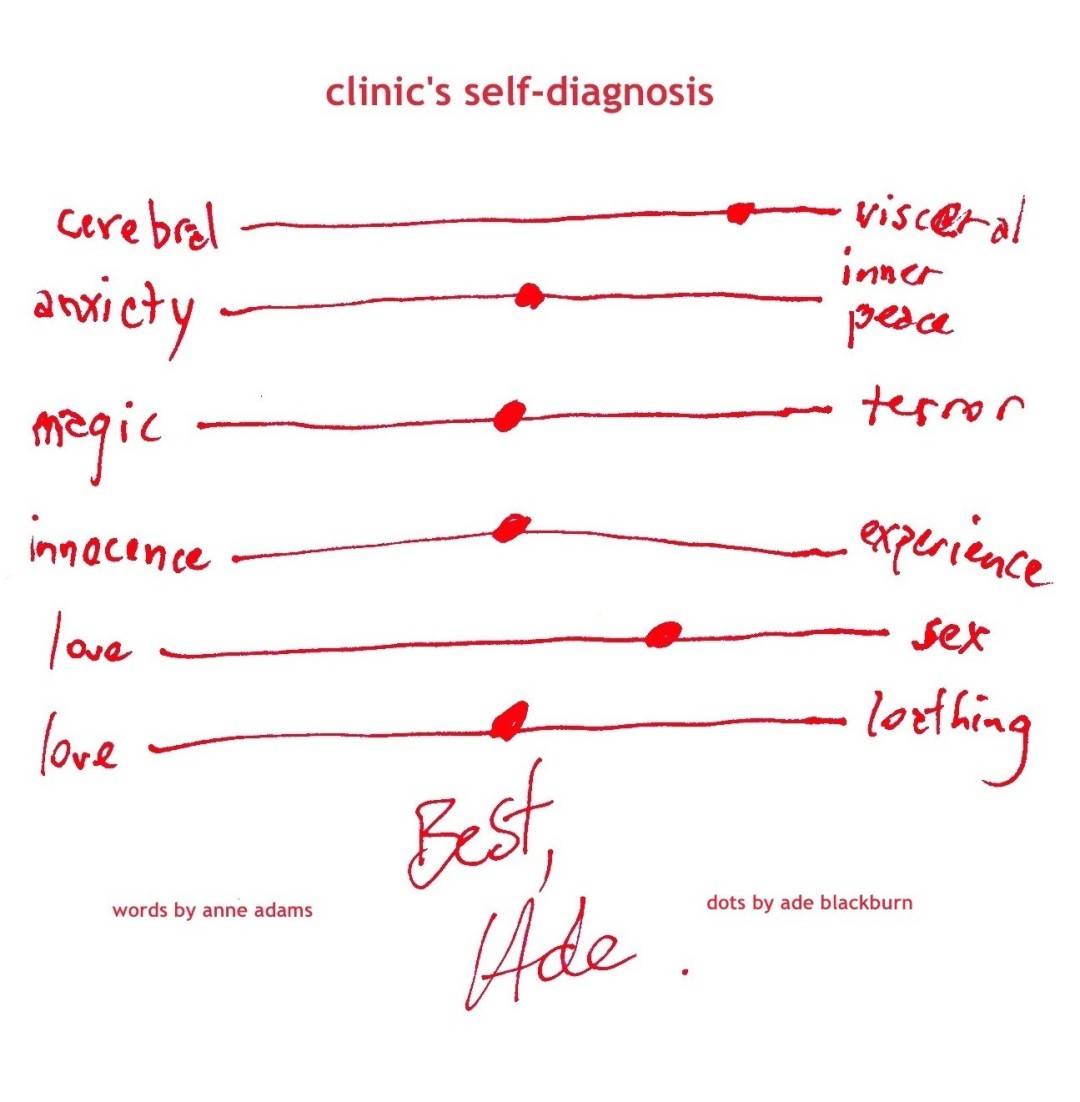 Wow, ladies and gentlemen. Looks like we've got ourselves a moderate. Ade went on to explain how he aims for emotional center by playing both sides: "If it's switching between different feelings quite rapidly, that's reflective of what your everyday feelings are. You're not feeling just one way at any given one time, it seems it's always going to or fro. It's about intensity, living in the day, urgency, the feeling of being alive." Indeed. Feeling it.
As for the two deviations—really, Ade? Not cerebral? A legion of hyper-analytical fans might beg to differ. Judging by the tightness of Clinic's compositions, intelligence is—if not intended—automatically included. Maybe Clinic folds a little chaos into its perfect pockets, to drown out its own incessant calculations. And "sex" over "love?" Perhaps. But musings like, "I love it when you blink your eyes," are a little too wistful to close that case. At any rate, a thrill to see Clinic live, and to chat with the literally low-profile band from whom so many other acts take inspiration. In the spirit of the holiday season, let's close with a vaguely Christmasy selection:
Like what you hear? Browse and buy Clinic's music through Domino. Or for more information on upcoming events, visit PoMo's Arts & Entertainment Calendar!