Article
Review: Mars on Life—Live!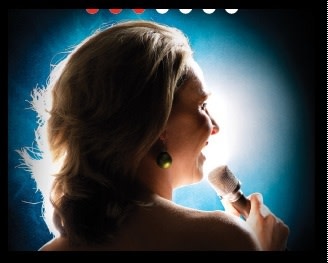 Susannah Mars' Christmas revue is as perennial as a poinsettia, as flashy as a sequined sweater, as varied as a See's sampler, and as delightfully dorky as…your mom.
Just in case this last comparison could possibly escape you, Susannah uses the word "crafternoon," and centers roughly half of her set around family and food. She sings equal praises to Christmas cookies and Hanukkuh latkes, but to keep it from getting too sweet (or too oily), she intersperses playfully snide memories about her own family, and even dishes a little about her famous actor father. "Here's my dad, and next to him would be his girlfriend—and depending on the year, that person would always be different!" she quips. "Norman Rockwell said, 'I paint life as I would like it to be.' So folks—lower your expectations for the holidays."
Mars is the consummate live performer. Though she runs the show, leading one to naturally assume that it's all about her, she checks in so often with the audience, you soon realize it's all about you. In her brassy Broadway way, this mom is there to serve.
Mars' mid-show "baking" vignette would make Lucille Ball proud. Miming to elevator music with an affected 50s-housewife grace, Mars follows baking instructions from a forcefully pleasant voice-over. "Blend in," demands the comically cryptic voice."This, plus this, makes this!" Mars muddles through the motions with a saccharine smile, but eventually abandons the project in favor of a paralyzingly strong cocktail and an under-the-counter "nap."
This is the darkest humor in a show that is mostly, in a word, nice. Mars' nimble voice and agile two-stepping, as well as a tastefully groovy live band, keep the overall mood merry and bright, while guests like the Portland Gay Men's chorus and star Broadway tenor Douglas Webster, put a few peaks in the meringue.
And now, some intermission commentary from Mars' devotees:
"Isn't she hilarious?"
"She changed it this year; I don't remember what it was before."
"She has a fabulous voice, and great comic gestures. She really brings the crowd in."
"If that were me up there, my feet would be sweating…every part of me would be sweating…."
"She's good. She's funny. I'm enjoying it."
Mars On Life—Live is at Artists Rep through December 19. For a more comprehensive list of events, visit PoMo's Arts & Entertainment Calendar!