WEEKEND PICK
Review: Stage Left Lost
Imago's latest work leaves Culturephile (almost) speechless.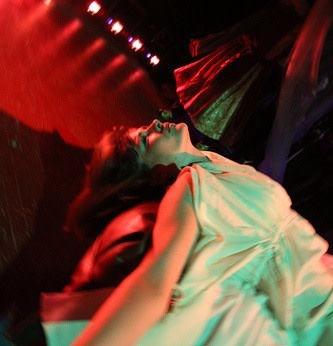 Mime is back. Or…never left? At any rate, I'm almost at a loss for words to tell you how brilliantly Stage Left Lost, Imago 's latest mute masterpiece, communicates.
About all I can say without spoiling surprises, is that there's a love triangle and a murder mystery, and that the creative inspiration for the piece is the play Othello. Now here's where it gets meta: rather than being a version of Othello, this is a play about actors acting in Othello, and their antics onstage, backstage, and off-stage. As if that weren't oblique enough, the play splinters off into a split narrative, following several tangential characters out of the "theater" and into their respective personal lives. The story explores three degrees of separation, and you absolutely can't anticipate which character will be featured next.
Oh—and the actors mostly face sideways.
"Wow, sounds confusing," you're saying—and with the average theatrical effort, it sure would be. But miraculously, in this play, you know what's going on at all times. Writer/director Jerry Mouawad's ingenious staging leaves plenty of room for surprises—but absolutely none for misunderstandings. The lighting unfailingly guides your gaze, the music strikes the right moods, and an arsenal of little devices spell it out better than words ever could. Just when we thought mime was moot, it breaks out of the box!
Catch Stage Left Lost Thu-Sun through November 21. Or for more upcoming events, visit PoMo's Arts & Entertainment Calendar anytime!