Article
Christmas Memories from The Woods
Sellwood venue amassed its musical "friends" for an unforgettable yuletide showcase.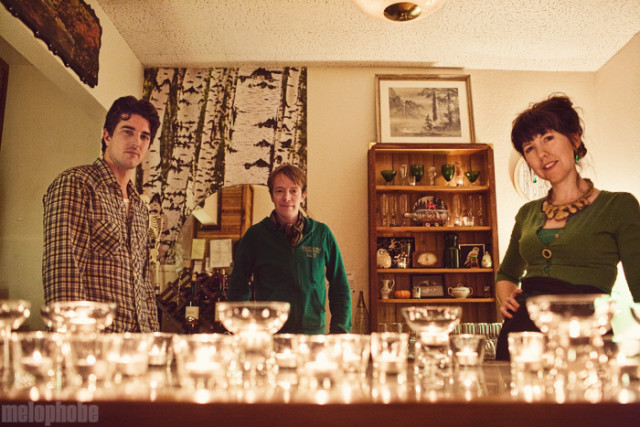 Last week, former Sellwood funeral parlor The Woods opened its candlelit owl-wings for a Holiday Celebration, inviting several musical "friends and family" to share holiday musings over the pindrop-perfect PA. To be sure, this was just one of a slew of had-to-be-there holiday soirees, so in case you missed it, here are some highlights:
Sallie Ford and Mike Midlo (Pancake Breakfast) singing "Baby It's Cold Outside." Bearded, older Midlo took the coy "girl part" ("I have to say no, no, no sir…") while ingenue Sallie flirtatiously belted the "boy-lines" ("Man your lips look delicious…")
Ezza Rose's chorus of "meows." Andrews-Sisters-style girl groups seemed to rule the day, with Alela and Alina, Ezza Rose, Johanna Kunin, and Laura Gibson all getting gal-harmonies going—but Ezza's was the only group that got catty.
Laura Gibson cracking up at the center of a trio singing "I'll Be Home For Christmas," when Dave Depper ad-libbed a sexy monologue over his piano accompaniment. "Baby, I'll be home for Christmas," intoned Depper while tickling the ivories, "and I hear you've been a real good girl!"
Dave Depper playing both John and Yoko. The aforementioned Loch Lomond side-man took center stage to sing Yoko Ono's Listen Snow Is Falling, and later to lead the closing singalong, John Lennon's Happy Christmas (War Is Over).
Nathan Junior's priceless musings. The sometime M. Ward side-man and half of Duover, is always good for a quip. "Practicing with a metronome for 15 minutes a day will make you the funkiest person alive," Junior exclaimed while hanging in the greenroom. And later, "Shows are never long enough. I want to play for hours. Meditate 'til I levitate."
Greylag's hauntingly flawless arrangements of classic Christmas songs, stood out for their complexity and achey, intimate vocals. They temporarily cast a winter pallor over the Christmas cheer.
Veterans Lewi Longmire and Michael Hurley playing through the evening's peak, over an unfortunately loud crowd.
Thao's irreverent new Christmas song, "Gift Card" was allegedly written on the day of the show. "I bought you a gift card | In the exact amount | of the gift that you gave to me | 'cause it's the thought that counts," she sardonically croaked—and later, "Target, you really hit the spot."
Musee Mecanique covering Thomas The Tank Engine. "We googled 'Snow Song,'" explained keyboardist Brian Perez, "and this was the first thing that came up. But we were like, 'Wow, this is actually an excellent song.' Turns out, it was written by a guy who worked at Apple Studios in the Beatles era." Who knew?
The Woods is located at 6637 SE Milwaukie Avenue, and regularly hosts alt-folk acts and theme nights. Post author has a prior relationship with the venue, but the artists listed have been validated by many other critics; check if you like. For a more comprehensive list of events, visit PoMo's Arts & Entertainment Calendar!