Culturephile
Something About Mary
White Bird's Uncaged dance series lets loose a Portland treasure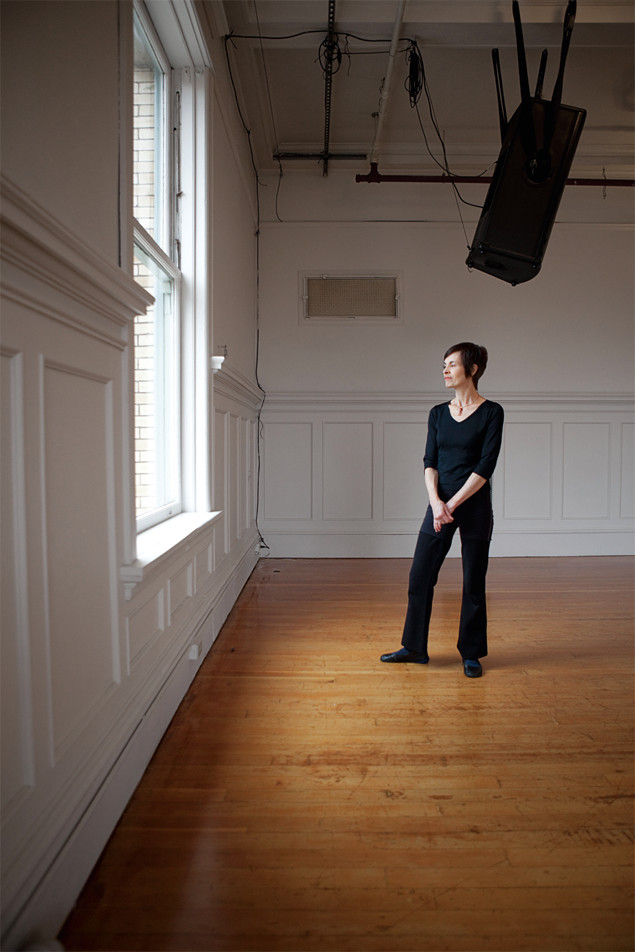 THE TALL WINDOWS rising on up the sides of the Pythian Building in downtown Portland soak in so much light that even on a dreary fall afternoon, the dancers on the fourth floor inside Conduit Dance Inc, Portland's 15-year-old epicenter for contemporary local dance, look like they are rehearsing in the incandescent glow of a television studio. Murmuring in knots of twos and threes, trying out gestures, they are starting and restarting the short sequences of movement that choreographers call "phrases."
Even if she weren't perched in a corner, tracking the smallest movement with an eagle eye, it would be clear this is a Mary Oslund dance. Shoulders often lead the action, then arms stretch and retract, torsos fold into themselves, legs step, twist, and bend. Velocity is key: bodies constantly using one another for extra propulsion, as launchpads or sweeping centrifuges. Yet, when I mention these signature characteristics, Oslund notes that what she likes best about "Childhood Star," the tentatively titled work taking shape before us and set to premiere in January as part of White Bird's Uncaged dance series, are the parts that "aren't like Mary."
She says this softly but firmly, and turns back to the dancers.
If Portland honored "cultural treasures" as the Japanese do, Oslund could wear the label. She's made ever-more intricately powerful performances here for more than 25 years, nearly exclusively for the city's small clan of passionate modern-dance devotees. Critic and historian Martha Ullman West, who has chronicled Oslund's career for Dance magazine, among other outlets, casually mentions Oslund in the same sentence with Merce Cunningham and Trisha Brown, choreographers "who have a brainy, intellectual, curious bent."
"Mary is a member of the club of true artists," West says, "those with a distinct point of view, who are true to themselves and their own aesthetic." 
For all of her work's idiosyncrasies, Oslund is clearly a branch of a particular family tree: as she once told me, "I am such a Merce baby." At Ohio State in the '60s and '70s, she studied with Viola Farber, one of Cunningham's greatest dancers, and those methods have informed her work ever since—whether closely collaborating with composers and designers or embracing dance as an abstract form, free of narrative.
From the first dances she made in Portland after moving from Eugene in 1984, I mostly remember Oslund as a performer. Slender and long-limbed, she moved with a spirit that evoked Cunningham—smoldering and almost feral but with her own sense of grace. As her choreography has evolved, Oslund has reached well beyond the techniques of "high" modern dance, drawing on, among other things, the rough-and-tumble grappling known as "contact improvisation," a form built on random collisions and close attention to one's partner. 
Through the '90s Oslund choreographed a series of tough-minded dances that applied the hard knocks of contact improv to describing the world in general (and relationships in particular) as a sort of battlefield, only sometimes blessed by the "Occasional Angel" (as she named one dance). Pain as a theme became central: the physical cost of long, demanding dances, and the existential price of loneliness and emptiness. The sense of struggle (which coincided with her own back problems during this time), she seemed to suggest, could drive us into a protective shell and turn us into robots or "Reflex Dolls" (as she named another work).
In the 2000s, Oslund's development accelerated. Her pieces focused on movement phrases, minute gestures that have no particular content by themselves until the dancer gives them a pulse. In Oslund's hands, they became alive and dense with meaning, not cognitive, but deeply emotional, seemingly emanating from beyond the muscle of movement to the bones. To "get" an Oslund dance takes some effort at first, but then it becomes mesmerizing.
Back in the studio, Oslund sends the dancers to their places for a run-through of several sections of the dance. The resulting performance will take its place among the often younger, more experimental groups White Bird brings to Uncaged. The series is also the presenter's platform for local choreographers, and "Childhood Star" is Oslund's second White Bird commission. To clarify her intentions with the troupe on this day, she has cut the tempo in half, which actually fits quite well with long sections of composer Darrin Verhagen's electronic score. Verhagen's work borders on the ambient at times, though he also has a soft spot for hard-edged percussion, and the slowdown turns the dance pensive, somber, inex-orable, though also elegiac. A closing quartet proceeds at a measured pace, the dancers recapitulating earlier phrases and then finding new ways to trade energy, to inflect their bodies with strange accents—a peculiar bow of the head, a turn that curls inward instead of stretching out. This is the part Oslund maintains "doesn't feel like Mary," although to me it still does.
"It's me trying to break old, familiar dance habits and to challenge me and the viewer," Oslund says. But that's how I understand all of Oslund's dances.
Maybe, at 62, she's more demanding; clearer about what she needs to do.
With two more months of rehearsals ahead, "Childhood Star" will evolve from its state on this afternoon, if only because the nine dancers, most of them Oslund veterans, will gradually unlock the choreography's secrets for themselves. Maybe it will return to its original quicksilver pace, maybe Oslund will invent new sections and trim old ones. And maybe a small gesture or a random collision will lead her and "Childhood Star" in a completely new direction.