Article
Visions Of Sugarplums, Part I
Oregon Ballet Theater's Nutcracker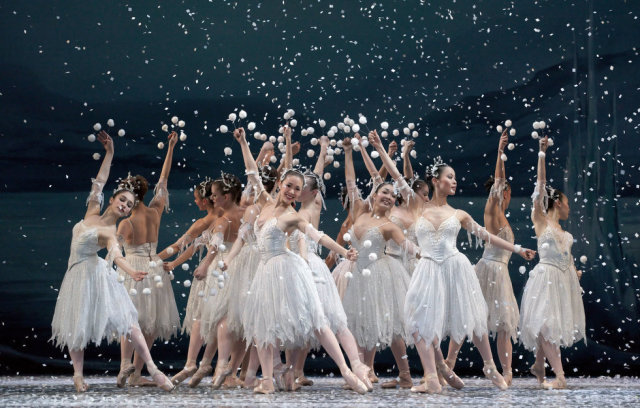 "Dancer…dancer…" my Nutcracker date kept discreetly whispering as we surveyed the audience at the Keller. Here, a child's head was elegantly aloft; there, a grandmother's purse flashed a few sequins. Surely, many in attendance were members of the Dance Family. The Nutcracker is like the dance community's midnight mass, my cohort explained—a celebration of tradition, community, and ritual pageantry, a place to break bread (albeit ginger) and retell an age-old story in the international language of leaps and bounds.
OBT's faithful Balanchine re-creation of the Nutcracker opened with a grownup holiday party and trod through many formalities, before tripping off to full-blown fantasy-land. Adults and children took mock-minuet formations, while pantomiming a convivial, chatty party atmosphere. All of this seemed to take up a lot of time, culminating in the entrance of Herr Drosselmeyer (Kevin Poe), the mysterious and beloved magician who presents the Little Princess with a nutcracker toy. As expected, Poe brought a stern, cape-flapping command to the role; meanwhile, my dancer friend pointed out Brennan Boyer. "That's really good pantomime; his head position and his acting are really nice."
As the festivities continued, the Little Princess gradually emerged in the forefront. Anastasia Beller's gestures were childlike and graceful, never grandiose, as the story began to follow her and the party scene drew to a close. She retired on a couch behind a screen, and was briefly visited by her mother (Andrea Cooper) in a ghostly billowing white nightgown.
After this, reality finally gave way to bizarre fantasy, as the Christmas tree spiraled into a huge glittering spire, and a (presumably dreamt) battle ensued between toy soldiers and giant mice. OBT's mice proved less menacing than cute, and the battle scene felt brief—almost perfunctory—as though it was understood that for the pageantry of snow and sweets to begin, the battle had to be gotten out of the way. (The same was true of the Princess's bed—which, though it moved on its own, seemed guided less by magic, than by student driver. My friend and I were amused by the rare technical glitch. "Bedknobs and broomsticks?" my friend said. "Battle Bots," I countered.)
The snowfall, with dazzling lighting, pulled us back into the moment, even as The Snowflakes in this production brought a feather-light touch. Though their point work was tightly synced, their formations were dispatched loosely, with a nymphish ease. This stood in contrast to the Sugarplum Fairy (Kathi Martuza) whose posture and epaulement were technically exacting, and whose command of the audience was irrefutable as she shepherded the little angels through their scene, and even as she held an arabesque on a moving floor. Her Cavalier Lucas Threefoot, meanwhile, made several beautiful tours, flawlessly landing in fifth.
The other treats and sweets began their pageant, and each brought its own mood and tone. Standout moments included Martina Chavez's amazing show of flexibility in the Coffee/Arabian scene, Steven Houser's ebullient hula-hooping (as Candy Cane), Justin Hughes' delightful drag presence as the huge-hoopskirted Mother Ginger, and Brent Slacke-Wolfe's excellent split jumps in the Tea piece. The children also did an admirable turn in the Mother Ginger dance, which was synced and spaced near-perfectly.
But the evening's magic was most purely reflected in Yuka Iino, The Dewdrop. The Firebird alumnus exuded a delicate, unaffected elegance as she danced among the flowers, her expression gradually blooming into a dazzling smile as she fluidly embodied each nuance of rhythm.
As the Nutcracker closed, encoring each of its acts for the Big Finish, my feelings of nostalgia also peaked. This is a performance that will happen every winter, in every city, and everybody will attend and enjoy it. The only things that ever change are the whos and the hows. Which is why, after the uproarious final applause, my dancer friend and I left the Keller with a plan: to catch another (smaller) Nutcracker the following weekend in Beaverton, and see what stood out there. After all—there has to be more than one way to crack a nut.
Enjoy reading about the Nutcracker? If you want, continue on to Part Two: Portland Festival Ballet. Or browse upcoming arts events at PoMo's Arts & Entertainment Calendar!