Article
Visions of Sugarplums, Part II
Portland Festival Ballet's Nutcracker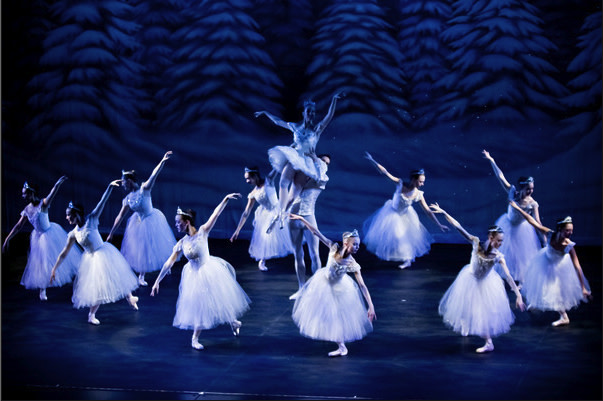 Last weekend, we caught OBT's Nutcracker at the Keller, complete with large-scale special effects and the rigors of Balanchine tradition. Now we're in Beaverton, trying to hastily park on a hilly sprawl for Portland Festival Ballet. Truth be told, we probably wouldn't have made this trek at all, were it not for the New York-based Joffrey Ballet's peskily unignorable good name.
Last spring, OBT hosted its annual fundraiser Dance United, showcasing an elite roster of world-renowned companies (San Francisco Ballet, Sydney Ballet, etc). All were standouts, but Joffrey Ballet's modestly modern, technically supreme pas de deux stopped the Keller's collective breath. ("Her feet ! My dance-expert friend continues to exclaim. "Ex quisite !")
This winter, when PoMo's calendar department received word of about six Nutcrackers in the greater metro area, one especially piqued our interest: the one that would double as Joffrey alum John Magnus' directorial debut with Portland Festival Ballet. So here we are, wedging the car near some train tracks, and rushing into the Sunday matinee.
Compared to OBT's pomp-and-circumstance opener, PFB's opening scene feels sprightly and fast-paced—but both share a spirit of cross-generational camaraderie, since The Nutcracker's many roles accommodate even the tiniest and the eldest members of the dance family. These dancers rightly cede center stage to the primas in the second act, but not before duly reminding us that there's life before and after the dance prime.
The child lead Marie (Sarah Whitehead) seems to be the only adolescent "tween" at the party, bringing the narrative more tension than a younger Marie would. We sense that the dancer, and hence her character, are in an intense growth phase. A few of the costumes (namely, what look like rental tuxes) raise a brow, but the "grandfather dance" formations are dispatched with near perfection, and throughout, the dancers handle themselves like real people attending a semi-formal party, making the scene believable and natural beyond what we expect from ballet. Meanwhile, the Grandmother, played by Tricia Dubay, resembles a friendly Mrs. Claus, pantomiming "let's wrap this up," with unmistakable clarity as she shoos the group from stage.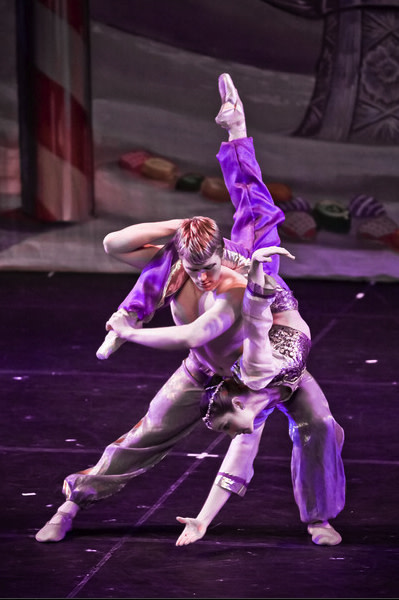 Now, the light changes to a ghostly green, and the whole stage seems to emit a faint electric charge. Enter a mouse. Then another, as a gradual creep of mice invades the stage. Gadzooks, their costumes are cute—like chipmunks, or even sugar-gliders! But this is not important. What's most noteworthy about these mice is their sense of presence, purpose, and consummate mousiness. From the tips of their little mouse fingers to the waggle of their loose mouse bellies, these mice are totally convinced of their own rodent status, and intent on winning their little battle. Watching each mouse leap and startle with a singular personality and a unified purpose, the audience is completely rapt, and thoroughly tickled.
We are almost sorry when Marie ends the scene, conking the King Mouse in the head with a pointe shoe. As the pageant of sweets, snowflakes, and flowers begins, we see strong symmetry, and scrupulous epaulement from most dancers. My friend notices Cavalier Scott Trombo 's invested, considerate partnering, and Sugarplum Fairy Melissa Framiglio 's effortless suspension on pointe. But the sweet-scene stunners are Josie Buck and Josh Murray (second photo), whose Arabian/coffee pas de deux was hypnotically flexible and sensual.
As we'd hoped, Magnus' version of the classic brings some unique creative flourishes—most notably, a whole different treatment of the Mother Ginger scene: In the conventional scene, a group of children emerge from under a woman's giant cake-like hoopskirt. But in this version, the cake is replaced with a Chinese-style dragon, and the children who emerged sport rakishly-tilted chinstrap caps. "They look kind of like Rockettes," my friend notices, theorizing that Magnus might be referencing his recent New York emigration. At any rate, changing gingerbread to ginger chicken brings an interesting twist, and affords Asian motifs extra time beyond the requisite "tea scene." The candycane trio features tumbling and ribbon wands, and the Spanish dancers flounce around in romantic ruffle-dresses, rather than the more customary tutus.
As the ensemble gathers for the big finale, we take stock of our PFB experience. Where OBT's Nutcracker felt like a midnight mass, PFB's feels more like a family reunion, closing with a sense of joy as compelling as the other's rigor for tradition. And Magnus' purported emphasis on acting technique as well as dance, seems to have paid off in a believable and immersive performance. We might have to make this drive more often.
Enjoy reading about the Nutcracker? If you want, have a look back at Part One: Oregon Ballet Theater. Or browse upcoming arts events at PoMo's Arts & Entertainment Calendar!