Article
New Galleries to "Occupy" the Mall
Avant arts collective The Settlement, sets up camp at a downtown mall.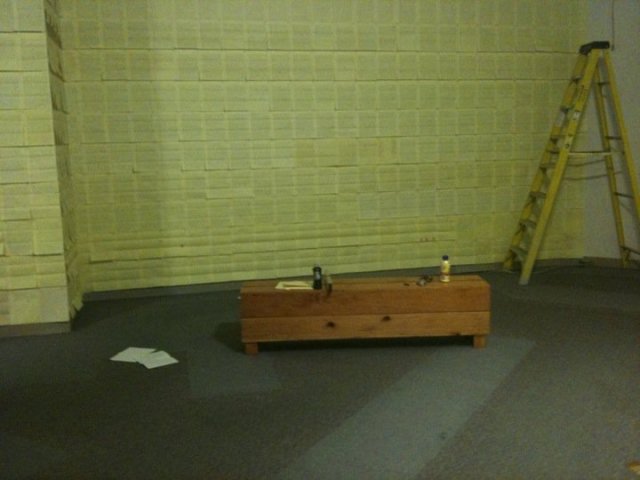 When cheap commercial spaces open up, art can get gonzo. Just ask Wynde Dyer, who has spent the last couple days transferring a sheaf of handwritten yellow legal pages to the walls of a vacated store space. Better known as curator of Golden Rule Gallery, Dyer has joined The Settlement, a loosely-knit collective of avant-arts squatters, in staging a temporary takeover of—believe it or not—Pioneer Place Mall. The group has been feathering its collective nest on the mall's top floor, with four new installations that will be open for viewing tomorrow night in a showcase appropriately titled Occupation.
Place
co-curated and directed by Palma Corral, Gabe Flores, and Gary Wiseman
The work of Joshua Berger, TJ Norris, Dustin Zemel, Emily Nachison, Rhoda London, and Vanessa Calvert. Process-oriented installation work, depicting themes of "Terror and Ego."
Store
collaboration Between The Settlement and PNCA
Installation works by the BFA students of Victor Maldonado's Art , Ethics, and Transgression class.
People's
curated by Chris Haberman and Jason Brown
Original, small-scale works by local artists; cash-and-carry, and modestly priced. Two-dimensional and small-scale sculpture.
Trade
collaboration between Nim Wunnan of Research Club, Tori Abernathy of Recess Gallery, Wynde Dyer of Golden Rule, Elizabeth Lamb of The White Box, and Max Ogden
The group seeks to "create ontologies for communication."
Occupation's grand opening begins on-site Saturday at 6pm, and gallery hours will follow. For a more comprehensive list of events, visit PoMo's Arts & Entertainment Calendar!