Article
Amaya Villazan Sings
The Artists Rep thesp-in-residence and Milagro alumnus, shares her gift of song in a special one-night performance.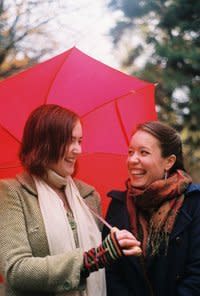 Who
Amaya Villazan & Sarah E. Mitchell, accompanied by Tim Ribner
What
Featured Student Concerts
Join two dear friends as they welcome the new year by celebrating their passion for song and storytelling. Amaya soulfully shares her love of folk and classic Americana, while Sarah gracefully lends her versatile voice to jazz, musical theatre, and a few original surprises.
When
Tonight, January 13 · 7:30pm – 9:00pm
Location Vanport Square Studio
5229 NE MLK #102
How much
$10 cash or check only
A complimentary beverage will be served.
Vanport Square Studio is an intimate space. Seating is first-come, first-served, so ARRIVE EARLY! For more info on Singing Performance Classes at VSS, visit www.vanportsquarestudio.com For a list of upcoming arts events, visit PoMo's Arts & Entertainment Calendar!