Article
An evening with Portland Arts & Lectures
Novelist Pauls Toutonghi recounts last week's Portland Arts & Lectures, which featured Elizabeth Strout and announced Oregon Book Award finalists.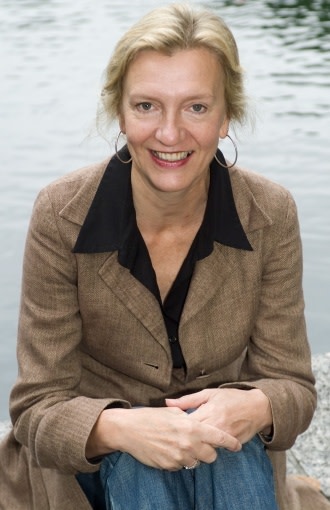 Culturephile can't be everywhere, but we hope, with our ever-growing spy network, we can cover the spread. Pauls Toutonghi, author of Red Weather, happened to catch last week's Arts & Lectures event, and offer us this report:
Tuesday, January 25, 2011
The Arlene Schnitzer Concert Hall is big. Cavernous, vast, gilded, velvety, a little intimidating—it's everything that a 2,500-seat venue should be. And, last Tuesday night—during the third installment of the 2010-2011 PORTLAND ARTS AND LETTERS series—they served beer in little, portable cups. You could put the lid on your Sessions Lager and walk back to your seat. That was nice.
What else happened?
First off, Elizabeth Strout had a broken ankle. She hobbled onto stage, leg immobilized in a walking boot. This was in itself a small act of bravery. 2300 people are staring at you and you are almost certainly in pain. You situate yourself on the red leather couch, you look up at the audience. Your body is exposed as the frail thing it truly is.
But she was great.
Her main theme was the importance of fiction writing, the importance of reading, the ways that reading can change us, make us into the people we hope to be.
"Fiction helps keep us open," Strout said. "It stops us from being dogmatic."
Strout displayed this openness in the stories she told, stories about her own life and writing and the lives of her family. Her book, Olive Kitteridge, won the Pulitzer Prize in 2009. She detailed, among other things, her fifteen years of rejected short stories at The New Yorker—and the fact that she didn't publish her first novel until she was 42 years old.
Strout quoted the poet Louise Gluck, who has said that: "We look at life once in childhood; the rest is memory." And Strout's memories seemed to organize around the character of her mother, a strong-willed (but loving) woman bred of New England Puritan stock. The talk dovetailed nicely with the text of Olive Kitteridge which has, as its heroine, a strong-willed (and ornery) woman bred of New England Puritan stock.
Strout also talked about television, and the way that, "television dilemmas are cartoonishly-large."
This is something that I've been thinking about a little bit recently, too: The difference between cinematic (or television) writing and fiction. I think about this, in part, because my students watch so many movies, and I watch so many movies—and I wonder what this is doing to us, as writers. No matter how much you study the plot of Mad Men, for example, it won't replace reading Herman Wouk's Aurora Dawn. (Wouk, by the way, is still writing, from Southern California, at the age of ninety-five.)
Conflict in fiction can be subtle. It can be small. "Often, by the end of the book," Strout said, "I feel like I've lost a good friend."
The event was also notable for the announcement of the finalists for the Oregon Book Award. Many of the honorees were there, and Andrew Proctor, the Director of Literary Arts, raised the house lights and had them stand for an ovation.
The evening was—and the series continues to be—an affirmation of the strength of the writing community in Portland.
There are two events left in this Portland Arts & Lectures season—one in March, one in April. For more upcoming arts events, visit PoMo's Arts & Entertainment Calendar!