music
Album Release: Fernando
True Instigator ought to reignite some old flames for longtime PDX song-crafter, Fernando.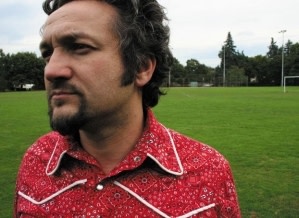 Fernando Viciconte is an artist worthy of attention. Crafting country-blues, but also drawing deep from his unique Italian/Argentinian heritage, this low-promo, high-cred songsmith has been compiling an album every 2 or 3 years for the last 15—and whenever he does, it's worth your time to track it down and listen. Like a wise tribal elder who doesn't speak often, Fernando is nonetheless a voice of authority—he's been through the wars and he's got the scars to prove it.
Saturday at Dante's, Fernando will release his seventh album, True Instigator; and when he sings a song like "Word From the Inside," the pain and exhilaration that well up around him are genuine, even classic, like Buddy Holly or John Lennon. Whether he and his deft backing players are burning up like a bar band at the apocalypse, as on the title track, or he's acoustically musing about his own mortality, as on the lovely "Remember Me," Fernando always walks an emotional tightrope without a safety net. "It's a long way down," he sings on "Wander." And he's fallen enough times to know.
Fernando will play Dante's this Saturday, followed by a 3pm in-store at Music Millenium next Saturday, 2/12. If you simply can't wait, sample his songs at ReverbNation. For more upcoming arts events, visit PoMo's Arts & Entertainment Calendar, stream content with an RSS feed, or sign up for our weekly On The Town Newsletter!