music
JazzFest Gal Wins Grammy
Next week brings plenty of chances to see Esperanza Spalding, Portland's own Best New Artist who beat out Bieber.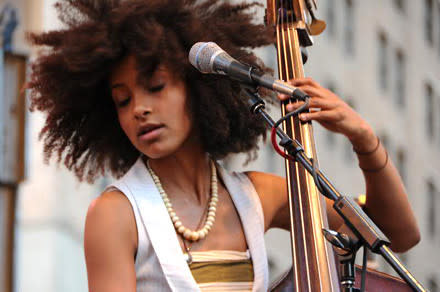 BEST NEW ARTIST:
ESPERANZA SPALDING
In case you haven't heard already, Culturephile feels compelled to tell you that Esperanza Spalding, a Portland native and Portland Jazz Festival Ambassador, has won the Best New Artist Grammy. Esperanza, 26 and already a superstar by Portland standards, is still a virtual unknown on the world stage, especially compared to her competitor in the category, Canadian pop golden-boy Justin Bieber.
The Grammy committee's decision to honor her seems a rare deviation from deeply entrenched "industry" status quo. In fact, many of this year's nominees—Kenny G? STP? Soundgarden? Korn?—are so established that the list as a whole reads more like a table of contents from a 1994 copy of Rolling Stone, than a 2011 music "who's who." So extra congratulations, Esperanza (and commendations to Bieber too), for putting a twinkle in Grammy's eye while you're still young and happening.
ESPERANZA IN PORTLAND
Feb 23
Black History Month reception honoring Portland's local jazz heritage through music, words and images.
4:30 PM | LOCATION: Portland City Hall (1221 SW 4th Avenue) | FREE
Feb 24
Jazz Conversation: Esperanza Spalding with Tim DuRoche
6:00 PM | LOCATION: The Art Bar | FREE
Feb 25
Jazz Roundtable: Bridges & Boundaries – Jewish & African Americans Playing Jazz / Esperanza Spalding, Anat Cohen, Don Byron, Yuval Cohen & Oran Etkin; Moderated by Darrell Grant
2:00 PM | LOCATION: The Art Bar | FREE
Feb 25
KMHD PRESENTS
Esperanza Spalding
7:30 PM | LOCATION: Newmark Theater | SOLD OUT! | ARTIST PROFILES: Esperanza Spalding
The Portland Jazz Festival begins this weekend. For more upcoming arts events, visit PoMo's Arts & Entertainment Calendar, stream content with an RSS feed, or sign up for our weekly On The Town Newsletter!