culture cheat-sheet
The Many Faces of Danielson
Culturephile offers a brief video tutorial on the long-running fringe-cult family band that's about to stop by Mississippi Studios.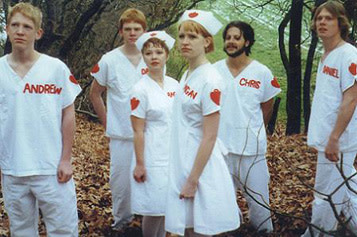 "How many of them are there?" might be the number one question that comes up when you mention "Danielson" , also known as "Danielson Family" and in a whimsical spelling flourish, "Danielson Famile." By "them," the questioner might mean members of the band, or children in the family—actually surnamed Smith—from which the band was born.
The answer? It varies. Eldest sibling Daniel is always the frontman, and he can usually wrangle a few brothers and sisters (in either literal or Christian terms) to back him up. But in its 17 years of activity, Danielson has expanded to include wives, children, and family friends like Sufjan Stevens. The band has also shrunk its ranks as one or another brother strayed from the flock. In 2006, JL Aronson released a documentary that tracked many of these changes, and showcased the group's unique style and Brother Daniel's inexhaustible vision. A trailer is worth a thousand words:
The follow-up question (referenced in the above trailer) is "Are they for real?" Draw your own conclusions about their catalogue as a whole, but Danielson's single Did I Step On Your Trumpet has undeniably earned its place in the indie-rock pantheon, arguably kick-starting the singalong trend, and certainly vanguarding for childlike indie aesthetics and DIY media production:
Recent release Heads In Da Cloudz, however, suggests that Brother Daniel might be drifting into a world of his own:
His long, strange trip will make a stop at Mississippi Studios next Wednesday, likely furnishing at least a few surprises.
For more about Portland arts events, visit PoMo's Arts & Entertainment Calendar, stream content with an RSS feed, or sign up for our weekly On The Town Newsletter!