theater
Review: Jack Goes Boating
Artists Rep's latest makes a feel-good spring splash.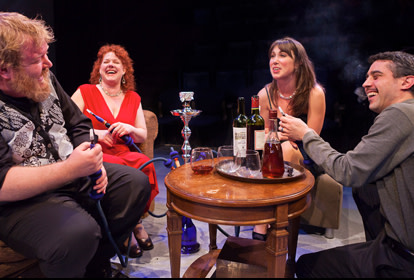 Move over, William Blake. The new song of innocence and experience is Bob Marley's "By The River Of Babylon," as heard (ad nauseum) in Artists Rep's Jack Goes Boating, the tale of a reasonably realistic couple who's already been through it all, and a charmingly idealistic pair of would-be lovers who are too timid to even start.
SUMMARY
Married couple Clyde and Lucy are sharp, "with it" people whom, we imagine, had no trouble initially hooking up. They're having a tougher time holding it together, however, since their individual charms have, over the years, enabled each of them to occasionally stray. They distract themselves from their lingering resentments—as many married couples do—by conspiring to unite Clyde's dumpy shy slacker friend Jack, with Lucy's frumpy, neurotic coworker Connie, both of whom (not shockingly) have had a hard time getting action on their own.
The married couple bring a can-do gusto to their project, coaxing the would-be lovers outside their comfort zone while compassionately downplaying their less attractive qualities. And boy, there are plenty: Connie is racked with nervous shudders and twitches, fantasizes about sex in spaceships and caves, and brings up her comatose father in casual conversation. Jack obsessively loves reggae, cultivates an ungainly head of white-guy dreads, and has a grating cough that worsens whenever he's nervous. The interactions between these characters are awkward to say the least, but both reveal themselves as so innocent and so noble, that after a while their idiosyncracies start to seem incredibly cute.
With the encouragement of their socially competent friends, the two erstwhile misfits nurture a tentative mutual hope, and begin an achingly gradual winter courtship that they plan to consummate by summer, when they promise each other they'll "go boating." At the simple suggestion of boating, Jack spins into a complex fantasy fraught with real concerns. If he wants to go boating, he'll have to learn how to swim. The metaphorical parallel to Jack's sexual inexperience is fairly obvious here, and becomes hilarious when Clyde gives Jack swimming lessons, reassuring him and coaxing him to "stab" the water, to "thrust," and to go deeper. "Like thiiiis, not like this…" Clyde calmly intones. "Smooth. Good!"
Through a series of swimming lessons, cooking practices, and double dates with the marrieds, Jack begins to feel confident enough to step up and court Connie. But now a new worry surfaces: his romance gurus Clyde and Lucy might be breaking up!
CRITIQUE
Culturephile cannot muster a single harsh word for this production. It's irreproachably professional and endearingly humane. Alongside Portland Playhouse's similarly stellar The Scene, Jack Goes Boating proves the two-man, two-woman show's potential for great character development. (Although where The Scene went for a gut-punch, this story administers a much lighter touch. Boating 's characters are overall more moderate, well-intentioned people.)
Director Allen Nause has done a four-star job casting this production. All four actors deliver pitch-perfect performances, gracefully mixing levity and gravity, affecting credible east-coast accents, using props and inhabiting space with offhanded ease.
Todd Van Voris, a complete chameleon, dispatches Jack without a whiff of the snarky bravado he used to play Jamie Tyrone in last season's Long Day's Journey. A malleable, harmless Mr. Nice Guy, you can't help but hope he gets the girl. Meanwhile, costar Emily Sahler wisely imbues Connie with the anxious affability she last brought to Gracie & The Atom. Simultaneously plucky and pathetic, she makes Jack and Lucy (and the whole audience) want to take care of her. San Diego native John San Nicolas 's comic timing pulls Clyde's (and much of Jack's) weight through the tougher moments of truth with the courage of a champion. Ashland Shakespeare Fest vet Tai Sammons plays his wife Lucy with a refreshingly un-Oregonian, larger-than-life demeanor. She's a tough, brave broad who's "always on," equal potent parts charm, sympathy, business, and temper.
So, no complaints, all accolades for a play that should prove a feel-good spring success for Artists Rep.
Jack Goes Boating will be at Artists Repertory Theatre through April 17. For more about Portland arts events, visit PoMo's Arts & Entertainment Calendar, stream content with an RSS feed, or sign up for our weekly On The Town Newsletter!