tune in: television
Portlandia Season 1: Final Thoughts
Book-ending the discussion with two parallel sketches.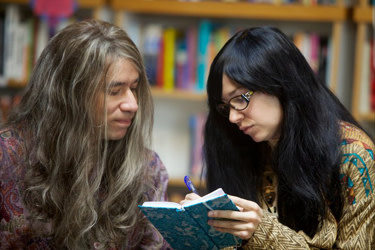 The last laughs of Portlandia 's premiere season subsided a couple weeks ago, but having already invested so deeply, Culturephile's going to need closure. So, we'll fulfill this week's quota of Monday fun by reviewing two sketches—from the first and last episode, respectively—that are set in the same location, the "feminist bookstore," and use the same device: a big celebrity cameo.
First, we've got Steve Buscemi, as bug-eyed and neurotic as ever, struggling against unusually hostile customer service to simply use a restroom and buy a coffee cozy. Last, Heather Graham tries to share a journal entry about her most intimate excitement, and is simultaneously stonewalled and…"woman-handled."
These celebrity cameos work better than some others because Brownstein's character responds to these particular celebrities the same way anyone would. Let's face it: Steve Buscemi generally seems shifty, and even when he's acting sincere, he evokes discomfort and mistrust. Heather Graham, on the other hand, has been inspiring "schwing" ever since she got her License To Drive. Hence Brownstein's reactions, though exaggerated, seem almost appropriate for the parties at hand. Armisen's character, however, reacts to everyone with the same percolating passive aggression, bubbling over with huffs, threats, and tantrums. Burnt-out customer service reps, and the customers who try to tolerate them, can both commiserate.
In a broader sense, Brownstein's reaction to these characters, mirrors Portland Monthly's reaction to Portlandia : initially suspicious, eventually embracing. At first, some of us wondered who was selling whom a bill of goods. But after a while, we had to acknowledge that though it only sporadically manifested magic, Portlandia 's first season had a unicorn inside it.
For more about Portland arts events, visit PoMo's Arts & Entertainment Calendar, stream content with an RSS feed, or sign up for our weekly On The Town Newsletter!