theater
Plot Tease: Futura
Culturephile reveals a few of Futura 's best twists.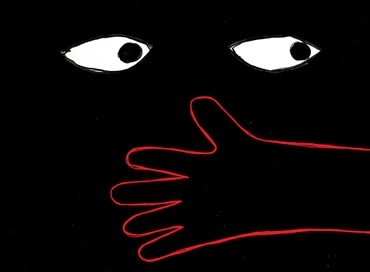 Was the house half-full, or half-empty? Either way, optimists and pessimists could agree that last night's crowd for Futura left the Ellyn Bye Studio (in the basement of the PCS Armory) at half capacity—despite teeming throngs upstairs, scrabbling for the last few crumbs of popular play One Flew Over The Cuckoo's Nest.
Perhaps Cuckoo upstaged Futura. Heck, that would make sense even spatially. Or perhaps in an attempt to protect its many surprises, Futura promoted too mysteriously, letting a nebulous tagline about "a future without print media," and a childlike graphic of two eyes and a hand, represent a play that's actually about fonts, mind control, and intellectual apocalypse.
This being the final week of Futura, and it would be a true shame if typography freaks or conspiracy theorists missed out because of vague marketing. Now that it's do-or-die, maybe it's time to leak a few of the show's secrets. They say one man's trash is another man's treasure; by the same token, what some might call a plot spoiler, would for others be a deal-sealer. If you're on the fence about whether to see Futura, here are some hints of what you'd be missing:
~ We learn the historical connection between fonts and Nazis.
~ A incredibly stealthy shoe-theft transpires but is never discussed.
~ A missing person is found.
~ A present person goes missing.
~ A faint "hot-for-teacher" chemistry simmers between an older woman and a younger man.
~ A bomb explodes.
~ A helicopter arrives.
~ Someone perishes in a pool of blood.
~ The stage gives way to reveal crumbled catacombs full of hidden treasure.
All right. Hopefully that's enough detail to inform your decision, because you'll not eek another peep from Culturephile. Suffice to say Futura is fleeting. You have 'til the end of the week.
For more about Portland arts events, visit PoMo's Arts & Entertainment Calendar, stream content with an RSS feed, or sign up for our weekly On The Town Newsletter!