Article
Review: On The Eve of Friday Morning
Fruit, nuts, and Persian food-for-thought from Oregon Children's Theater.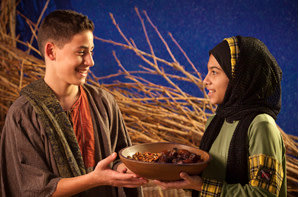 Bust out the basmati and pop open a pomegranate; Sunday is Nowruz, Persian New Year. Probably not coincidentally, it's also closing night for Oregon Children's Theater's latest play, set in Iran. On The Eve Of Friday Morning, penned by Washington DC high school teacher Norman Allen and sponsored in part by Portland's Ziba Design, is an offering that clearly seeks to enlighten as well as entertain. The Winningstad lobby is adorned with festive décor, and show-goers are even given a traditional Persian parting snack of dried fruit and nuts. Here are some other memorable takeaways:
THE MESSAGE
The minute Nassrin bursts onstage, over a blast of Iranian hiphop, she blurts out what must be the key point: "I do not live in 'the axis of evil!'"
Having gotten that off her chest, she begins to reintroduce the audience to her homeland Iran, explaining that it was formerly known as Persia, a land of poetry, music, and art. But the contemporary Iranian government—far less prone to poetry—has imprisoned her father for the possession of banned books. "Depending who you ask, I'm the daughter of a hero, or the daughter of a criminal," she observes.
So which is it? Is Iran a bastion of rich culture, or a seat of cultural oppression? Yes. This play wastes no time unveiling a tough truth, seeming to say, Honey, it's a big world, with good and bad and in-between guys. It's complicated.
But in Persia, we're told, paradoxes are nothing new. In place of "Once upon a time," Nassrin's mother explains, Persian storytellers customarily start with, "There was one and there was none. Except for god, there was no one." (To my ear, this rings similar to the Biblical passage, "In the beginning was the word, and the word was with god, and the word was god.") As she speaks the traditional phrase, an ancient folktale begins to unfold on the other side of the stage. Guided by an orphan boy and a travelling storyteller, we're transported to ancient times. Dried fruit, nuts, and jewels are the currency, and turbaned day-laborers genuflect to royalty. Peasants and a princess are assigned their fates by mysterious gods. Eventually, a message materializes: Be satisfied with what you have. Share what you have. And also share your stories—in Persian tradition, they're considered part of your wealth.
THE TALENT
Refreshingly (and in contrast to the last OCT piece Culturephile covered), this play puts child actors front and center—and we're pleased to report that they earn it! Maya Caulfield as Nassrin, and Jordan Karlous as Bahad, both bring maturity, subtlety, and poise to their respective roles. When they interact, they also manage to nail the preteen girl-boy love-hate dynamic. Nassrin is the more confident character, bounding around the stage, holding up an index finger to drive home her bold declarations. Bahad, meanwhile, is more "ah-shucks," with a bit of a slouch and a layer of sarcasm not quite masking a simmer of sensitivity. Even the offstage god-voice of Mushkil Gushad is left to a child actor (one of the understudies?) who dispatches it with excellent inflection. These child performances offer enough pep to engage younger kiddies, and enough edge to keep adults intrigued.
Meanwhile, competent grown-up actors hold supporting roles. Matt Dieckman (whom we last saw in Imago's brilliant wordless thriller Stage Left Lost) plays Baba Kharkan, a day-laborer who catches a stroke of luck and becomes a nobleman. As Naqqal the storyteller, Andrew Garrettson interjects with warm, wise tones and narrates the story without overbearing. Curious Comedy regular Laura James plays a mirror-gazing, silly Persian Princess that reflects a better-known archetype: Alice In Wonderland's Queen of Hearts. Meanwhile, Dré Slaman bears up under the heaviest dramatic load as Nassrin's modern-day Mother, smuggling banned books under her chador (more on that later) while running interference between the oppressive government, her radical husband, and her impatient daughter. These adults keep the plot progressing and set the overall tone, but allow the kids' stars to shine.
THE SETTING
The set starts out as a span of sand-colored, ancient-looking architecture, but as the story unfolds, bolts of silk unfurl, enveloping the setting and the characters in sparkling, soft billows. It's simultaneously a celebration of the native textiles, and a demonstration of the way stories enrich the bland day-to-day landscape.
THE GARB
Lest it seem odd that an article of clothing should get its own callout, consider this: Adults will likely see Nassrin's mother's chador, which obscures everything but her face and hands, for what it is, a customary costume that an Iranian woman wears outside the home. But for westernized children, it's bound to generate discussion. As in, "Mommy, why is Nassrin's mommy wearing a black blanket!" Donning and doffing the costume each time she comes and goes from home, Nassrin's mom enacts a routine almost as accessible as Mister Rogers changing from his sport-coat into his cardigan. Kids will quickly come to realize that there is a "regular lady" under the black blanket—a worthwhile acclimation.
Happy Persian New Year, Portland. And here's hoping in between eager chomps of nan, you leave room for this entrancing fable, as well as the broader cultural conversation it's likely to kickstart with your kids.
For more about Portland arts events, visit PoMo's Arts & Entertainment Calendar, stream content with an RSS feed, or sign up for our weekly On The Town Newsletter!