books
Sarah Vowell at Bagdad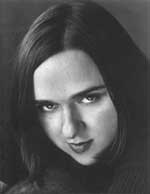 Author Sarah Vowell has made her fame spinning stories from bone-dry historical research. She's pored over documents detailing presidential assassinations, mined the microfiche to get the dirt on Puritans, and for her latest book Unfamiliar Fishes, she's been snooping around Hawaii to find out how missionaries, foreign wars, manifest destiny, and Hawaiian native culture collided during America's annexation of its unlikely 50th state.
"BOH-ring," you might say. Ah, but thanks to the nuanced, snarky stylings of the savvy Ms. Vowell, you'd be wrong. She has a real knack for making these fusty old tales seem fresh and relevant—and seeing the humor in it all.
In giddy anticipation of Vowell's visit to the Bagdad Theater this evening, Culturephile went into our own research mode, seeking a video clip of her talking about her new book. There were a few, but they were full of digressions about basketball and self-deprecating asides from Vowell about her inability to enjoy tropical leisure activities. So instead, we chose the following, a transcribed taping of Vowell sharing her general philosophy: "It could be worse."
Check it out, and If you agree, catch her at the Bagdad!
Sarah Vowell will be at Bagdad Theater (SE Hawthorne & 37th) at 7pm. For more about Portland arts events, visit PoMo's Arts & Entertainment Calendar, stream content with an RSS feed, or sign up for our weekly On The Town Newsletter!