Culturephile
True West
In Kelly Reichardt and Jon Raymond's pioneering 'road movie,' dust and drought haunt both past and present.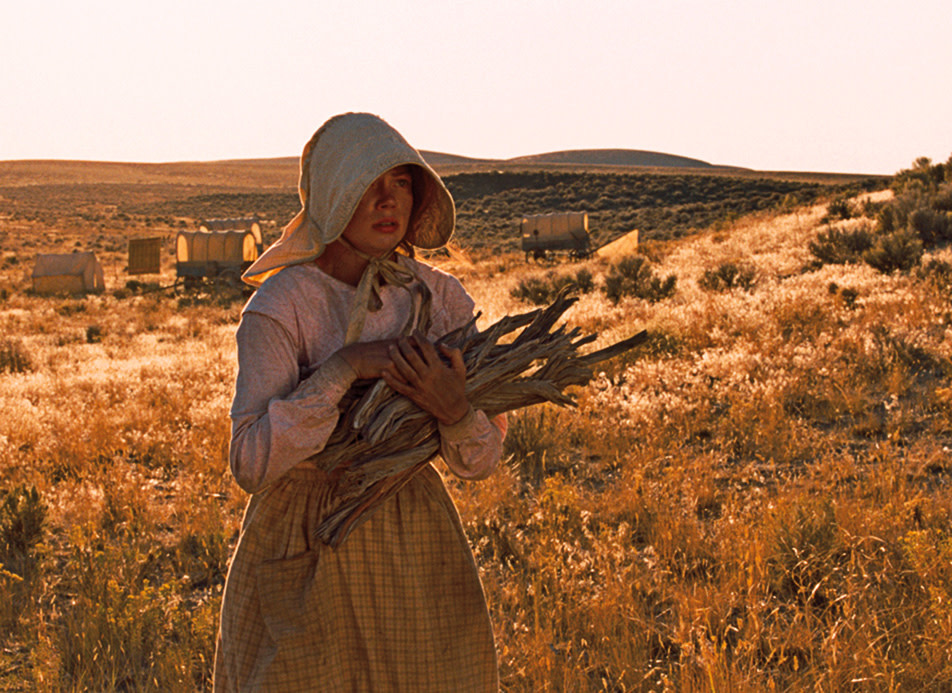 The Owyhee River is running strong and frigid as animal handler Cody Smith coaxes a pair of oxen across on a trial run for the opening scene of Kelly Reichardt's new film, Meek's Cutoff. "Step-up, step-up," he huffs, steeling the skittish creatures' resolve as his own feet search the river's bottom.
Cinematographer Christopher Blauvelt is perched with the crew on the bank, trading places at the viewfinder with a tightly wound and pacing Reichardt. As the camera begins to whir, tall sprigs of grass wave blurrily in the foreground as the shot slowly follows the animals, now pulling Conestoga wagons and accompanied by the entire cast of eight actors sinking shoulder-deep into the current for the start of the entirely wordless first seven and a half minutes of the film. In this portrayal of one of the Oregon Trail's most dramatic stories, this scene will be the last en-?counter with fresh, flowing, nourishing water in both the emigrants' and the film's journey. The sequence ends with the first dialogue: a child sounding his way through Genesis 3—the expulsion of Adam and Eve from Eden.
Meek's Cutoff is the third film Reichardt has shot in Oregon and developed with Portland writer Jon Raymond. Starring Michelle Williams, Will Patton, Paul Dano, and Bruce Greenwood, it is based loosely on the true story of Stephen Meek, a guide who led a wagon train on an imagined shortcut through today's Harney County. In reality, some 200 wagons and 1,000 people followed him on a months-long wander leading to many a diary entry of "4 beried heare" and "child beried heare." But in Reichardt and Raymond's telling, the story rises to political allegory: a group of people following a leader whose actions spur one emigrant to question, "Is he ignorant or just plain evil?"
Like their two previous award-winning collaborations, Old Joy and Wendy and Lucy, Raymond describes Meek's Cutoff as "another existential road movie." Debuting in Portland on April 22, it has already won plaudits at the Venice, Toronto, New York, and Sundance film festivals. But where the two previous films were simple tales— Old Joy exploring the nostalgia of friendship between two former buddies on a sojourn, and Wendy and Lucy the slow slide of a young woman and her dog into desperation— Meek's Cutoff embodies an entirely different magnitude of ambition: a full-blown reconsideration of the western. Entirely free of the genre's romantic or hard-boiled clichés, it has neither beginning nor conclusion, few big vistas, and no heroes or villains. It is, at root, a series of encounters between emigrants and the landscape—and, most ambiguously, with a wandering ?Indian—that constantly pose choices between equally vexing unknowns.
Raymond encountered the story of Meek on a freelance job conceiving heritage-themed golf course names for a Bend real estate developer. But the film's deepest inspirations came from the Oregon Trail diaries he and Reichardt read. "The emigrants start out with these grand, poetic visions—you're leaving Missouri and you're going to heaven on earth," recalls Reichardt. "But by the time they've been walking for six months they become very stripped down to the list of chores. That's where we are in our story." 
Reichardt and producer Neil Kopp considered shooting in the more movie-friendly Marfa, Texas. But Eastern Oregon's beauty, and their belief that a story so fundamentally about this particular landscape had to be shot here, led them back to the still-very empty Harney County. The choice proved fateful, as the Oregon desert refused to play passive backdrop. During the month of shooting in the spring of 2010, snow and subfreezing temperatures followed one-hundred-degree days. One actor got heat stroke; another, hypothermia. A chest-deep lake that location scout Roger Faires discovered for one pivotal scene disappeared. A huge desert playa that looked perfect for another critical scene left him circling for a week just to find an accessible entrance.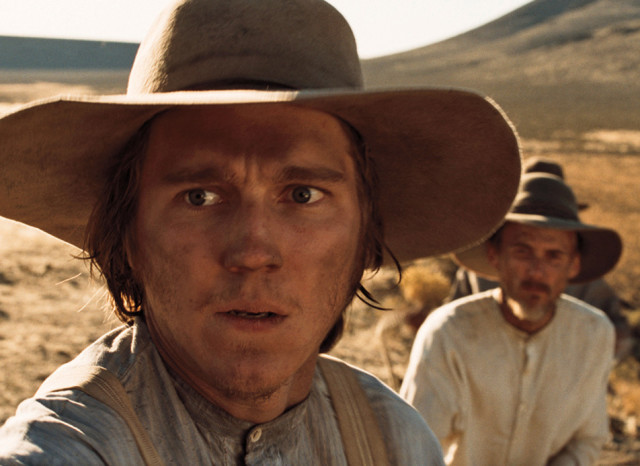 The resulting film defies easy description, much less categorization. Inspired by the wagons' canopies and women's tunnel-like bonnets, Reichardt shot the film in a seldom-used, near-square, 1.37:1 format. "With the square, you can have the crackling dirt and the sky over the mountains," says Reichardt. It keeps you firmly with the emigrants."
Time, too, hangs with the emigrants, with long scenes devoted to the building of campfires, the grinding of coffee, and in one of the tensest moments, the slow process of clearing and loading a rifle to get off a second shot. Jeff Grace's score steers clear of all big-sky western chords in favor of pulsing, wind-like distortion. And despite the cast's considerable acting power, only Bruce Greenwood as the grizzled, storytelling, philosophizing Meek offers any typical western archetype. Instead, Reichardt and the actors slowly divine each character in a gradual revelation of social class, life experience, and religious fealty that, as the going gets dryer, breeds their differing fears, desperations, and strengths.
"People were outside all day in the elements, and they got worn down," says Reichardt of the actors. "The wind constantly blowing dust in your face and having to deal with animals—not horses, but bulls—keeps performances from being anything but in the moment."
The film's most penetrating moments arrive with the Indian the party encounters and then captures, played by longtime Hollywood stuntman and Crow-Cheyenne polyglot Rod Rondeaux. Speaking only in Nez Perce (he learned the language for the film), Rondeaux carries an unyielding otherness that leaves him as yet another ambiguity. Is he, as Meek believes, a threat to quickly dispose of or, as Williams's Emily Tetherow hopes, a knowledgeable local who might lead them to water?
Raymond's dialogue constantly levitates action to metaphor. As the emigrants face the roadblock of an alkaline desert lake, Patton's Solomon Tetherow sums up the dilemma: "What is the best way west: north or south?" Upon encountering a possible sign of water, Dano's Thomas Gately foregrounds the still-impending limbo: "We're close but we're not sure what to." When the women chide Meek's masculinity, he quickly spits back a double-edged statement of gender equality: "Women are created on the principle of chaos… men are created on the principle of destruction."
Raymond describes Meek's Cutoff as a "feminist western" and a "community western," contrasting it against the genre's usual primacy of lone male heroes, violent resolutions, and climactic drama. Reichardt sidesteps labels, instead citing the inspiration of a single shot—what she describes as arguably the only one in the history of westerns offering a female point of view—from Nicholas Ray's 1952 movie The Lusty Men. After an argument between Susan Hayward and Robert Mitchum over whose frontier life is richer with adventure—the woman's or the cowpoke's—Mitchum strides out the door, but the camera hangs on Hayward, in the kitchen holding a dish. "That scene," Reichardt says, "was in the file of my mind when I was trying to make this film."