Piece of the Rock
6 Questions for Wire
Q&A with pop provocateurs Colin Newman and Graham Lewis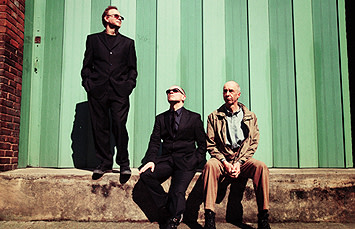 Wire is a difficult band to label. Artistically the principal musicians (guitarist and singer Colin Newman, bassist and singer Graham Lewis, and drummer Robert Grey) are always in forward motion, testing new sounds, moods, and colors on every album since the release of its classic Pink Flag in 1977. These highly erudite Englishmen are touring America at the moment, behind a powerful new album Red Barked Tree, and they will be playing at Dante's tomorrow night. Anyone who fancies themselves to be keen students of not only rock, but of 21st century music itself, would do well to attend.
Colin once told me in an email interview several years ago (hopefully I'm not mangling his statement) something along the lines of Wire albums being a case of the band applying itself to a particular aesthetic. Can you describe the aesthetic that you applied yourselves to on Red Barked Tree?
Colin: In many respects this album is done to the aesthetic of Wire. This is what distinguishes it from some previous efforts. the majority of the songs were written on acoustic guitar and learned by the band immediately before initial recording. Writing on acoustic guitar is not something I've really done for many years but the combination of the way I write on acoustic guitar (rhythm, structure and basic harmonic structure) with how the band mike take that material gives a real strength to the album and absolutely dictates the aesthetic direction.
Graham: The development of the aesthetic came out of a combination of basing the process on writing good songs and utilizing the band's strength of producing strong and appropriate arrangements, instinctively, when presented with a well defined song structure…
On Red Barked Tree there are some echoes from past songs ("Moreover" recalls "A Question of Degree", "Clay" has a bass part similar to "I Am The Fly"). How are these references viewed by the band? Revisiting an old idea for possible new solutions rather than sly nostalgia? Something else?
Colin: Ultimately neither, it's just how they came out. Initial writing and band arrangement are both processes that are in no way intellectualised. It's all about instinct and organic development.
Graham: Quite honestly I didn't give the similarities much thought… I certainly wasn't making any attempt to be ironic and absolutely none at nostalgia… Wire are always post-nostalgia!
The bass part has changed considerably since we've been touring "Clay".
I forget where I read it, but there was a review of your 2008 album Object 47 that alluded to Wire being a band of misanthropes. Some degree of truth, right on the money, or complete rubbish?
Colin: I think mainly rubbish. Although "One of Us" is perhaps less than generous in some of it's thrust although it is in fact about survival against the odds if it's about anything specific.
Graham: I think Wire is probably the opposite… "Now Was" on RBT is a song which indicts those who wallow in misanthropic tendencies!
How do you maintain sanity whilst touring America? For that matter, how is America's reputation amongst band members these days?
Colin: Touring America can be enormous fun. We are at times "divided by a common language" but this can be the source of a great deal of humour. America seems to be very much warming to us at the moment and it would be ungenerous not to reflect some of that love back..
Graham: Sanity's such a subjective state… and touring is potentially extremely disorientating… however, it's perhaps too early in this tour to gauge/measure/quantify Wire's collective mental health… As ever, it's great to be in the US meeting and exchanging with friends old and new..
The title track on the new album seems wistful, yet hopeful, the idea that we need to find a way to heal ourselves. Was it a case of venting and raging throughout the record, getting it all out of your system, as it were, before looking at the next steps we ought to take?
Graham: Wistful??? I think it's more a case of patient heal thy self!Combined with a collective wish to consciously change our species behaviour towards the rest of the planets inhabitants…
Colin: Lyrically the album ranges across lot of topics, moods & emotions and by no means were all the words were written by Graham. There's no one topic but it did appeal to finish the album with a track that has the sense of a search for healing.
Does Wire have ambitions or does that word not apply?
Colin: Does that question not imply that the questioner thinks we have already achieved enough? If Wire had no ambition then there would be no reason to continue.
Graham: When it's cold I feel cold but when it's hot, I feel ambitious… fit for princess and hot on the heals of an angel…
Wire will be at Dante's on Tuesday, April 12. For more about Portland arts events, visit PoMo's Arts & Entertainment Calendar, stream content with an RSS feed, or sign up for our weekly On The Town Newsletter!