theater
Review: Opus
Portland Center Stage's latest play says a bit about chamber music—but a lot more about people.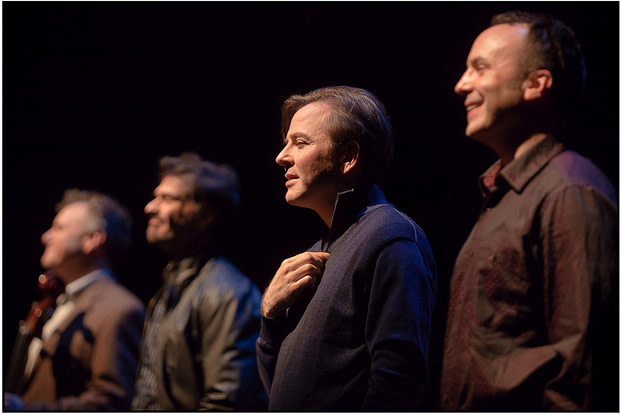 Only when it was over, did we confess our preconceptions. "To be honest, I didn't think this play would be this great," I admitted. And with a flood of relief, my date agreed. Funny story: we thought that because PCS's Opus was about highbrow chamber musicians, the dialogue would be stuffy and self-congratulatory. We expected—at best—Frasier-style snob-wit, dry as a biscotti, and at worst, musical jargon jokes as oblique as a minor 6th. Or, I secretly worried we might get the opposite: some sort of winkingly irreverent buffo pantomime slapstick, in which a carelessly swung bow poked someone's eye out, and the cellist farted.
But as it turns out, Opus resonates very nicely between extremes, emerging as a realistic, humane, character-driven story. Here a little humor, there a little pathos. Everywhere, empathy.
Second violinist Alan (Greg Jackson) has a soft spot for the ladies, and loafs around his house in a bathrobe. He's easy to know and easy to read, and fully confesses his own imperfections.
Guest violist—and sole gal—Grace (Sarah Stevens), is young and idealistic, and aims to please. "I made muffins!" she exclaims during one of her many vain attempts to diffuse the group's bickering.
Estranged violist Dorian (Matthew Boston) has the most musical talent—but is a little mentally unhinged. He disappears and reappears at inconvenient moments, casting an uneasy pall over the group's efforts.
Cellist Carl (Chris Hietikko) is just trying to pull his weight, and not bicker or bitch too much. He's preoccupied by bigger problems with his health.
And first violinist Elliot (Chris Coleman)—played by the Artistic Director of PCS—struggles to suppress his nagging neuroses, and reign in his impulse to lead a group that's designed to be democratic.
These aren't chamber-music personalities—they're people, with all the accompanying human frailties. And like a "Beethoven cycle," the play modulates seamlessly between their major and minor emotions. Chamber music trappings are mostly elegant window-dressing, but they also provide a novel delivery system for a universal set of cooperative ideals:
"We don't have time to waste."
"…something greater than the sum of its parts."
"Not perfect. Never perfect. Just closer. That's all we can hope for."
For more about Portland arts events, visit PoMo's Arts & Entertainment Calendar, stream content with an RSS feed, or sign up for our weekly On The Town Newsletter!