all-ages opera
Portland Opera's Ravel Couplet: L'Heure Espangnole and L'Enfant et les Sortileges
A cheating wife and a sulking child get what they deserve in this cheeky double-header. Reviewed by Anne Adams and Melanie Glass.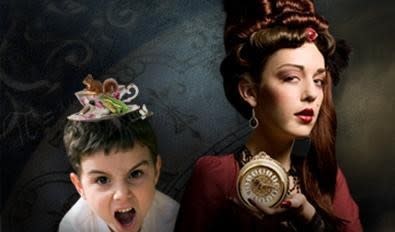 Fancy a night at the opera? Can't find a babysitter? Have no fear, Ravel is here. With only three more performances of L'Heure Espangnole (The Spanish Hour) and L'Enfant et les Sortileges (The Child and the Spells), you can plan a family outing and hustle down to the Newmark Theatre for a night of culture. Both works in this Maurice Ravel couplet address the human condition with a light touch, and each ends with a relatively straightforward moral.
L'HEUR…
Moments after the clockmaker's wife Concepción scoots her husband Torquemada out the door to tend to the village clocks, the strong, silent muleteer Ramiro stops by to get his watch fixed, and decides to wait the hour it will take for the clockmaker to return. Concepción (every bit as scheming as her name implies) had planned to entertain lovers in her husband's absence. Now thwarted, she must improvise. She hides her lovers in grandfather clocks, and enlists Ramiro's help to hoist them up to and fro on the stairs that lead to her bedroom. Between innuendos about how her husband can no longer get it up*, and her mounting frustration with one suitor's recitations of poetry and the other's social awkwardness, Concepción finally takes notice of the strong, silent muleteer (a serviceable beast of burden, as implied by his trade). "Among lovers, only the effective one counts…every muleteer gets his turn," the closing line opines, less an indictment of infidelity, than of some women's frivolous failure to reward workhorse types.
Daryl Freedman plays Concepción with a flair that conjures Minnie Driver's Carlotta in Phantom of the Opera, appropriately upstaging Matthew Hayward (the Muleteer)'s Portland Opera Debut. Despite tackling such a high-maintenance character, Freedman remains consistent and on-point throughout.
Everything and everyone in this opera is over-the-top, and you really got the sense that—all rigors of opera singing aside—everyone is letting loose and having a good time. The blocking is particularly buoyant, with moments of slapstick and plenty of opportunities to show off the cast's kinetic chemistry.
But the most nuanced humorist of the bunch is Steven Brennfleck as the poet Gonzalve, foppishly gazing at the page and making self-important gestures while virtually ignoring his supposed muse. Brennfleck's crisp wit serves as a great complement to his lovely tenor.
*Despite a touch of blue humor, the opera overall remains family friendly. Children should be distracted enough by the ridiculous sight of the muleteer hoisting giant clocks, that they won't attempt to decipher the meaning behind a drooping fan.
L'ENFANT…
The second opera opens with a lone child on the floor, foot-long oversized pencil in hand, backdropped by somber black and white. (Between this production and last November's Hansel & Gretel , Portland Opera seems to have mastered a particular brand of cartoonish-yet-bleak aesthetic.) The child throws a tantrum and destroys his room—but is shocked when the toys, furniture and paintings begin to come to life, and each one confronts him. (Here, the oversized, animated props evoke Brave Little Toaster or Beauty and the Beast.) An angry clock whom the child has doomed to constantly chime by breaking its pendulum, tells him its tale of woe. A thwarted storybook princess who will never be rescued because the temperamental enfant ripped her book to shreds, berates him. When he tries to escape, animals ambush him in his own garden. Like a child Ebenezer Scrooge, he's eventually haunted into better behavior, and ends up repentantly running to his mother, crying, "Maman! Maman!"
Though less "adult friendly" than L'Heur, this opera should draw applause from parents hoping to reinforce the golden rule. Certain details, especially the onstage costume-changes and some esoteric references (a bug from the garden admonishing the boy for taking his wife and pinning her to a board, for instance) might confuse young viewers, but the overall message comes across.
Though the role seems to be loosely defined as a "boyish" one, Hannah S. Penn, an adult, plays the child. A technically excellent mezzo-soprano, her obvious talent exceeds her suitability to this particular role. Children will have an easier time than adults suspending their disbelief and seeing her as a "boy." (Hopefully, more womanly roles are also in store for this promising Studio Artist Program grad.) Daryl Freedman, meanwhile, returns to the stage as "Mama," but the nurturing character stands in such sharp contrast to the coquettish Concepción, the audience may have a hard time recalibrating its expectations.
Considering Portland Opera's recent expansion of school outreach, and a current season with two kid-centric stories, it seems we'll be seeing more of the all-ages opera. Luckily, this Ravel pairing has a little something for everyone.
Portland Opera's Ravel couplet runs through Saturday. For more about Portland arts events, visit PoMo's Arts & Entertainment Calendar, stream content with an RSS feed, or sign up for our weekly On The Town Newsletter!