theater
Review: Passion Play
A busy script meets a competent cast in Portland Actors Conservatory's Easter offering.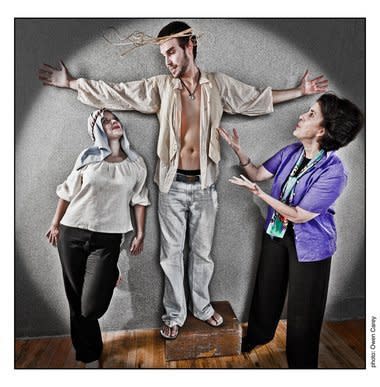 I'm unsure whether watching Sarah Ruhl's Passion Play on Easter Sunday was a fitting holiday celebration—or a heretical act worthy of a witch hunt. At any rate, amid dizzying plot twists and confusing comic relief, this piece of theater a few saving graces: skilled lighting, well-executed blocking, and most notably, a cast devoted to their acting craft.
Sarah Ruhl's Passion Play reframes a play-within-play of Christ's death in three settings: Elizabethan England, Germany during Hitler's rise to power, and Spearfish, South Dakota, in 1969. In Rose Riorden's adaptation, only the first two settings are addressed—which proves plenty complicated enough. The first stop on the whirlwind journey is England circa 1535, where the audience is put in the position of eavesdropping on backstage preparations for a Passion Play festival. Sexual innuendos run as rampant as apocalyptic omens, and the rushed dialogue is heavy with medieval pun. Cue a seductive "Virgin" Mary with an intoxicating accent (Anna Xenokrati) confessing sordid sexual desires with "ten Hail Mary's in the ecstasy of love," at which point the sky inexplicably turns blood red. These sudden transitions become a pattern, as repeatedly, a quick scene-change will task an actor with a brand-new character, with no wardrobe or dialogue clues to set it up. Keeping up with the back-and-forth is enough to give you whiplash.
Both acts are heavy with social commentary, topped off with an ironic immaculate conception and a secret love affair between Jesus and Pontius Pilate. Yet the best comedic moments fall just shy of farce, and quickly fizzle as a hodgepodge of deceptions, fairy tale references, and sins spill out haphazardly on stage. But like Simon of Cyrene shouldering a crude cross, the actors bear up under the material and carry it to Calvary.
Jessica Anselmo appears as the narrating village idiot, capturing our attention with a childlike naiveté masking a darker side that would make Sissy Spacek proud. Her presence on stage is truly mesmerizing, with spotlit monologues that highlight her fragility, contrasted by ominous tirades to the sky, we are reminded that "the passion" is no laughing matter. Is it?
The most convincing love affair amongst the sinful bunch was that between Jesus (Lionel McCann) and Pontius Pilate (Sam DeRoest). Their on-stage tension is ripped from the Twilight series, cloying with arm massages and campy references to "mushroom hunting" together in the forest. The interaction between these actors is just awkward enough to make their forbidden romance believable.
Several nice turns of stagecraft accompanied the acting, thanks to director Rose Riorden's keen eye for detail. Scenes are tightly and gracefully blocked, and dynamically lit, thanks to veteran designer Daniel Meeker. A favorite lighting moment comes at the end of the first act, when most of the cast dons swimming fish hand puppets that glow and come to life as the light fades to black.
The primary mood-killer, meanwhile, unsurprisingly arrives during the "Nazi Germany" portion of the program. Village idiot Jessica is identified as a Jew, and her costars ominously circle in on her as the scene fades to blood-red and then black. In another surprise turn, the "Jesus" character is (ahem) resurrected…as a Nazi officer. Another script surprise, unforeshadowed by the other characters' wrestling and sexual cavorting that precede it.
Cameos from Queen Elizabeth and Hitler, evoke contemporary playwright (and recent PAC favorite) Christopher Durang, who has been known to usher in historical figures for absurd monologues to hilarious and poignant effect. But here, the figures (despite Patrick Roth's admirable efforts) fail to bring more than a few stilted chuckles, due to the unsettling intensity of their subject matter. Their novelty notwithstanding, in the context of this particular plot, one wishes Bill and Ted's phone booth would show up and spirit them away.
Though it proves a great vehicle for actors to hone multiple characters and hold a moment, a general feeling of confusion looms over this, dare I say, overly ambitious play, and it's hard to take away any greater political or religious message. This culturephile would have preferred more farce, and fewer Nazi non-sequiturs.
For more about Portland arts events, visit PoMo's Arts & Entertainment Calendar, stream content with an RSS feed, or sign up for our weekly On The Town Newsletter!