broadway
Review: Ten Reasons To See Billy Elliot
This tap-dancing, tear-jerking Broadway favorite has a lot going for it.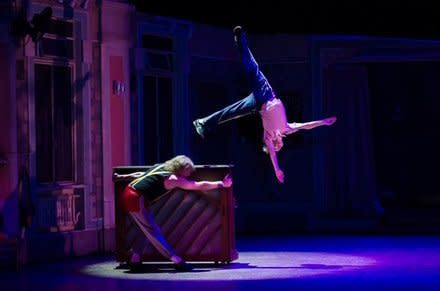 The Civics Lesson
Billy Elliot was inspired by the actual UK miners' strike of 1984, but just so happens to be touring in 2011, as Wisconsin state workers' unions find themselves under threat and in the news. It's a case of life-imitates-art-imitates-life, ad infinitum, and hence makes a handy entry point for a conversation with your kids about current events.
Tap Dance and Jump Rope
…together at last! They make it look easy while singing a number called—what else?—"Born to Boogie."
The Older Gals
Billy Elliot's Granny basically has one moment to shine—literally, as she reveals a pink sequined dress under her housecoat, and sings of her torrid love affair with Billy's granddad, a handsome dancin' nogoodnik whom she loved best when they both were drunk. (This waltz is musically one of the prettiest pieces, and the choreography of the cadre of handsome men who represent granddad's old crew, is classically "Fosse.") Meanwhile, Faith Prince as dance teacher Mrs. Wilkinson inspires both love and fear—no small feat while dancing up a storm in shreikingly loud legwarmers.
Dancing Dresses
Billy's got a cross-dressing buddy Michael, who, during the course of the story, helps us grasp the finer distinctions between loving to dance, and being a "poof." But boy, can that little guy get down. In the highest point of hilarity, a number titled "Express Yourself," Michael explains in song why he loves to wear dresses, coaxes Billy into a few choice frocks, and sashays around the stage as backup dancers, dressed as giant empty dresses, form a kickline against a shimmering wall of tinsel. Hey, Michael: The Scissor Sisters want their stage act back.
The Dialect Coach
These people speak in a Northern English accent—but don't worry, it sounds "spot-on" enough that all but the stodgiest linguists will quickly forget it's affected.
The Inevitable Tear-Jerk
Billy's mom is dead the whole show, and we don't really know why. But when she returns in ghost form to embrace him and offer words of encouragement, your mascara doesn't stand a chance. The real-life mother and son seated on Culturephile's left, were clinging to each other for dear life. If you're a softie for hard-nosed old codgers trying to change their ways, Billy's dad will get to you, too. And if a "whole town rallies behind one guy" scenario opens your floodgates—well, this play has that too. Bring a tissue, 'cause your ducts will meet their doom.
B-boy Billy?!
Rest assured, no matter which night you go, you're gonna get a great Billy. All four of the boys tapped for this role are Broadway-worthy little pro's, and fourteen-year-old Aussie Daniel Russell proved as much on Wednesday by earning a standing O. That said, there's one Billy in the bunch who may bring a little extra "flava"—Californian breakdance-trained Lex Ishimoto. Program notes reveal that Ishimoto dances some scenes differently from the other three Billys, so if you happen to catch him, you might see some especially fresh moves.
The "Angry Dance"
The "angry dance," love or hate it, has taken on a life of its own, spoofed by myriad comedy shows and defined by modern critics as a trope. Some cite Footloose, Breakfast Club and Hedwig, but almost all acknowledge Billy Elliot as a prime example of the form. In a bid to defend its notoriety, this production pulls out the stops. Young Billy rails against a British Coal boxcar, karate-kicks through a salvo of strobe lights, stumbles amid billows of smoke, and finally throws himself at an advancing row of riot cops. Beat that, Kevin Bacon.
Dad's Song
One look at Rich Hebert, with his salt-and-pepper buzz-cut and gruff demeanor, tells you why he's held a host of roles as a TV cop. And he spends most of the play in that mode: yelling at Billy and jostling around with fellow strikers in the union hall. But after too many beers at a union Christmas party, the plainspoken patriarch suddenly turns misty-eyed poet, singing about his descent into the mines, and his wife's later retreat into the grave. On a par with Andy Griffith's front-porch serenades and Archie Bunker's revealing rants, Hebert's performance delivers the wrenching catharsis of watching a tough dad crack.
A Conflicted Victory
It shouldn't come as any surprise that Billy Elliot has a happy ending, with young Billy earning the chance to pursue his dancin' dreams in the big wide world. That said, his goodbye is not completely cut-and-dry, as the family Billy leaves behind continues to pursue a dying trade in a struggling town. "There's f*ck-all here for ya, Billy," says his teacher, advising him to go forward and not look back. As he does so, we feel not only his giddy anticipation, but also the poignant pangs of his family's sacrifice.
Billy Elliot will be at the Keller Auditorium through April 17. For more about Portland arts events, visit PoMo's Arts & Entertainment Calendar, stream content with an RSS feed, or sign up for our weekly On The Town Newsletter!