WEEKEND PICK
Review: tEEth's Home Made
tEEth's award-winning piece explores the glories and ravages of a long-term relationship. It returns from an acclaimed touring run for a one-night-only performance on Saturday, April 16.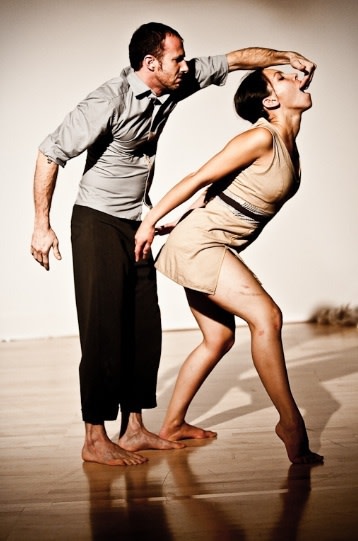 Since Home Made premiered in Portland last November, the piece has toured several cities, scored a big win from Seattle's On The Boards, and been added to summer 2011 festival bills in Prague, Texas, and Salt Lake City. But in case you missed it before it was "big," White Bird will sponsor a one-night-only encore performance in Portland this Saturday night.
An image emerges from a blur: two giant symmetrical ultra-close-ups, a man and a woman. Two elbows, two chins. Four nostrils, and we're almost looking up them. The pair starts to slowly caress each other's faces, and the camera pans around under the giant stretchy white sheet on the stage, projecting a massive magnification of whatever it sees onto a screen. Hair. Knees. Random expanses of bare flesh moving in dynamic formations. Gosh. Is it hot in here?
This is Home Made —homemade intimacy, that later morphs into torpor, anger, alienation, passion…and back. The two dancers, variously clothed and nude, literally go through the motions of long-term monogamy. Sometimes they're in sync. Sometimes they're on autopilot. Sometimes one or both act out in a way that defies interpretation altogether—the kind of inarticulate "WTF" moment that only people who see each other often, and know each other well, ever expose. Because the dancers are virtually the same size, they easily maintain eye contact and show not only chemistry, but symmetry. Whether this is intentional, or a happy accident, it gives a sense of equality and power-balance that is rare in hetero pairings.
Though its topic is classic, this piece feels novel, strange, and sexy. Meanwhile, the music is nothing short of transcendent. Two singers, Luke Matter and Cali Ricks, provide ambient live vocals over a somber, watery piano. The audience could easily get its money's worth from the music alone—but its marriage to movement promotes an even deeper hypnosis. Repetition, variation and symmetry ever-so-slightly disorient one's perception of space and time, in the same way that a real makeout session would.
Fair warning, tEEth has one hell of an oral fixation. During the course of this piece, almost everything that can be stuck in the mouth, is—not just obvious parts like fingers, but more awkward fits, like chins, elbows, and whole microphones. Tongues are waggled, mouths are widely gaped, Foley-style sound effects are issued from the orifice. These tricks threaten to snap the viewer out of a moment. Maybe they say something profound, but a few just seem to scream, "Mouth!"
But tEEth's creative masticating did not seem to fase local avant-art maven Paloma Soledad, who called the work "A must-see; beautiful, crazy, wonderful," adding, "Thank God for people who do performance art dance! You make the world a better place." Culturephile agrees. If not the whole world, at the very least, the week.
For more about Portland arts events, visit PoMo's Arts & Entertainment Calendar, stream content with an RSS feed, or sign up for our weekly On The Town Newsletter!