Made in PDX
Andy Paiko's Amazing Glass
Local glass artist Andy Paiko creates everything from tricycles to a seismograph in his playful and sublime projects out of a North Portland studio.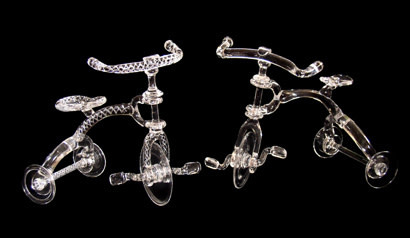 You may have seen glass artist Andy Paiko's bell jars around town at places like The Museum of Contemporary Craft or Paxton Gate. Wonderful whorls and swirls of glass intersect in graceful sculptures with a wry edge. But it's his special projects that are perhaps his best work, and unfortunately, his least well-known. From tricycles to a seismograph to a spinning wheel, these kinetic glass pieces are amazing feats of both function and form.
The spinning wheel really does spin wool, and the tricycles actually move around (although I'd be loathe to see any toddler try their feet on those pedals). But beyond the amazing style of the sculptures, I particularly like the thought behind their innovation: the slightly tongue-in-cheek, very witty interpretation of low-tech objects that are meant to be hardy, while making them out of glass—a material that while strong, will break at first earthquake tremor (in the case of Paiko's wondrous seismograph).
Save up your pennies for one of these pieces, or just take a look at his website. It's Portland artistry at its best, and most cleverly creative, and any of his pieces would make an ordinary living room extraordinary.