monday fun
Long Live Viva Voce
If you missed this brilliant pop couple yesterday—be sure to see them next month.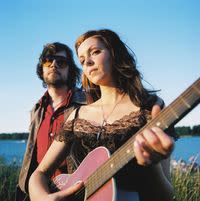 Whether you're one of the PDX-Pop-watchers who's been hip to them since 2004, or a tiny tyke who first laid eyes on them yesterday at the monthly kid-friendly rock showcase You Who, you've probably been won over by Viva Voce. But if you haven't heard them yet (totally possible since they don't promote nearly as hard as they rock) then you're in for a treat. Like a drama-free White Stripes, married couple Kevin and Anita Robinson are equally easy on the ears and eyes.
This video reveals the Robinsons as humble, hard-working homebodies with a great sense of humor:
This one shows that, though they might seem shy, the pair refuse to take any guff:
And here's a live clip, wherein Anita maintains doll-like facial composure, while positively shredding on the guitar:
Viva Voce's next local appearance will be June 21 at Music Millenium, in support of their new release, The Future Will Destroy You. That show, incidentally, is free. Fellow Portland music lovers, how spoiled are we?
For more about Portland arts events, visit PoMo's Arts & Entertainment Calendar, stream content with an RSS feed, or sign up for our weekly On The Town Newsletter!