Article
PDX Pop Now! Unveils Comp CD
The free, all-ages music festival launches its 2011 flagship.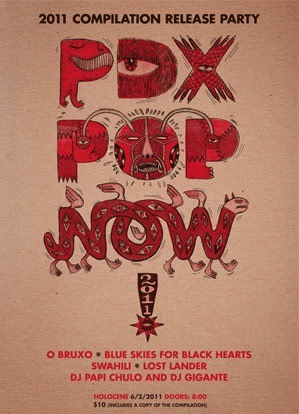 Please peruse the following list, and note that we've bolded a few tried-and-true recommendations.
Disc 1
Forbidden Friends – Tiny Hands
the Shivas – Gun In My Pocket
Cool Nutz – Monster Up
O Bruxo – De Colores
Grouper – Alien Observer
Jared Mees & the Grown Children – Hungry Like a Tiger
Red Fang – Wires
Lovers – Boxer
Alan Singley – Sauvie Island
Reva DeVito – Baby What You Do to Me
Lost Lander – Cold Feet (MP3)
Guantanamo Baywatch – Clam Party
Bright Archer – Hidden Systems
Purple & Green – Right Here
Blue Skies for Black Hearts – Majoring in the Arts
Wizard Rifle – Tears Won't Soften Steel
Jarad Miles – Lazy Old Sun
BOOM! – Onomatopoeia
the Ascetic Junkies – (Don't) Panic
Death Songs – Wounds
Disc 2
Viva Voce – Analog Woodland Song
the BellBoys – Somethin' In My Mind
Headphone Party – Strictly Stuntin'
Witch Mountain – Veil of the Forgotten
Langhorne Slim & the Law – Past Lives (live)
Sex Life – I Want You
Swahili – Soma
Unknown Mortal Orchestra – Thought Ballune
Point Juncture, WA – When You Wake Up It's Today
the Woodlands – In the Dark on Monday (Heavy Hands Remix)
the angry orts – the Trend
Quiet Countries – A Teeth Cutting
Living Proof – Caddy Music
Johnny Reno & the Vicemachine – Be Gorgeous & Be Gone
Mojave Bird – Roan Wolf
Blouse – Into Black
On the Stairs – Stand
1939 Ensemble – Espérer
Ben Darwish – Under the Bright Red Sky
the Minders – Needle Doll
Drew Grow – King On Your Throne
PDX Pop Now! will occur July 22-24 at Refuge PDX, SE 1st and Yamhill. The two-disc comp will be released on June 2 at Holocene. For more about Portland arts events, visit PoMo's Arts & Entertainment Calendar, stream content with an RSS feed, or sign up for our weekly On The Town Newsletter!