Article
Storm Tharp at The Lumber Room
Collector Sarah Miller Meigs' invited artist Storm Tharp to curate a show from her impressive collection for a rare public opening of her extraordinary Pearl District loft.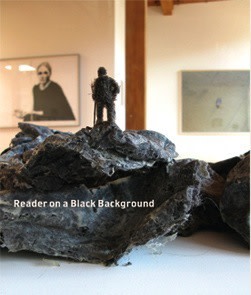 Over the last decade, Sarah Miller Meigs has quietly put together one of the region's most thoughtful contemporary art collections. Now, for a rare public opening of her beautiful Pearl District loft-cum-conversational salon space, the Lumber Room, she's come up with an equally thoughtful way of showing a selection of her acquisitions. The exhibition, entitled, "Reader on a Black Background," happens over two three-day stretches. Exhibition 1 • 11am-6pm • May 12-14. Exhibition 2 • 11am-6pm • May 19-21
The lumber room is located 419 NW 9th.
The inspiration? Her own purchase last year of a Tharp painting, "The Decorator." Hoping to better understand the work, she asked Tharp to select pieces from her collection. For those who know this 2010 Whitney Biennialist's work, it will come as no surprise the show is eclectic. Indeed, this may be the only time you'll find works by renowned figurative abstranctionist Susan Rothenberg and sublime minimalist Agnes Martin keeping company with photographers like landscapist Richard Misrach and Lee Friedlander, and sculptors like uber-minimalist Donald Judd and expressionist Jessica Jackson Hutchins.
Storm writes that the show's title is inspired by the namesake 1939 Matisse painting portraying a woman sitting at a rose-colored table, reading a manuscript. Writes Tharp: "Tall flowers fill a large, ceramic vase and her abstracted profile is reflected in the mirror behind her. The drafting is minimal and naïve, the color vivid. A suggestion of seasonal decor illustrates the artists romance with Southern France and the Mediterranean. These elements are afloat in a sea of black: no horizon, no ground."
"In an overwrought world," he continues, "it is refreshing and restorative to take pleasure in the formal qualities of a great painting. . . It is the interior of life illuminated by knowledge and beauty. In relationship to this, I think about my own painting "The Decorator," 2010, and I begin with two sensibilities: The idea of knowing who we are by what surrounds us. And the notion we cannot possibly know anything."
For more about Portland arts events, visit PoMo's Arts & Entertainment Calendar, stream content with an RSS feed, or sign up for our weekly On The Town Newsletter!