dis appointment
Hiphop Show Loses Headliner
…and audience's goodwill.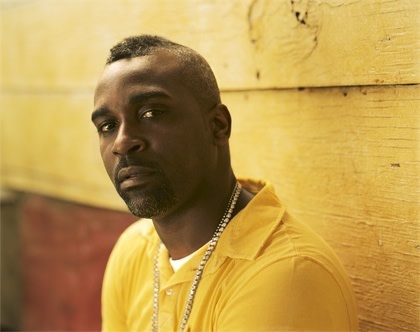 THE SETUP
Yesterday, Culturephile recommended that you catch hiphop legend Aceyalone, and asked why people in Portland seem so hiphop-show shy. Fourteen hours later, we had an answer.
Rapper Aceyalone's show at The Crown Room drew a decent turnout—especially for a Monday night. Hippies, hipsters, and homies mingled peacefully as an R&B act warmed up the crowd, starting late and playing long. Oh well; so far, s'all good.
When the first rapper finally hit the stage, headliner Aceyalone emerged at the front of the crowd, energetically dancing and essentially hyping the little-known spitter. Then another rapper who wasn't Acey took the stage. And another. And another. Even the show's host wedged in a few of his own numbers while DJ's were changing guard. Though each act dropped Acey's name to drum up applause, none seemed particularly respectful of his time—or the fact that, past a certain point, he was no longer visible in the room. The night's de facto headliner, beatific bay-area hipster Rashaan Ahmad, earned a roomful of nods and energetic crowd participation. But by the time he finished it was at least half past 12, and there was still one more opener to go.
THE FALLOUT
Aceyalone, the self-proclaimed "golden goose," must have skipped out at around 1. "If I were him, by 1 a.m. I'm sure I'd be thinking 'Well, you obviously don't need me here,'" commented longtime local rock musician Denver Warner, and several have chimed in agreement. Indeed, musicians and fans from all concert scenes can commiserate with the situation: a popular act is dangled like a carrot in front of a waning crowd, while promoters try to drag out the downtime to boost bar sales or hype no-name support acts.
This concertgoer would have preferred to pay a $10–15 ticket price for a well-paced show, rather than an (un-refunded) $5 to spend the whole evening getting slowly drained like a sugar beet. As Aceyalone might've said if he'd stuck around: "Thanks, but no thanks. Pranks, or no pranks. I'm'a let them know they can't rank."
BETTER BETS
In the future, Culturephile will put better money on juggernauts like Soul'd Out, or count on volunteer love-fests like PDX Pop Now to come through.
For more about Portland arts events, visit PoMo's Arts & Entertainment Calendar, stream content with an RSS feed, or sign up for our weekly On The Town Newsletter!